'Tis the Season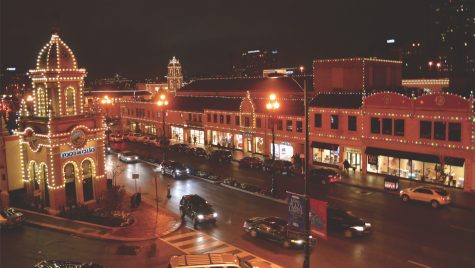 Walking in KC's Winter Wonderland
This holiday season, don't settle for watching ABC family's "25 Days of Christmas." Explore different ways to get out and cherish your friends and family while getting into the spirit of winter.
Salvation Army Bell Ringing
This is a great way to genuinely spend time with family or friends. Families or groups up to four can sign up online to serve at different locations around Kansas City. Essentially, you stand outside and ring a bell to remind others to donate money to the red kettle for the Salvation Army. There is no cost and is a wonderful way to remind ourselves to be thankful.
The Plaza Lights

Of course, our beloved Country Club Plaza Lights makes the list. Enjoy the beautifully radiant Plaza with a hot drink in hand. Now with over 80 miles of lights strung high above our heads, this season is perfect for shopping, eating or taking a horse- drawn sleigh ride in the snow.
Christmas in the Park
Pack as many people as you can fit into one car; bring blankets, hot chocolate and snacks and turn up your favorite Christmas radio station. This park opens at sundown, where thousands of bulbs and hundreds of moving light fixtures gleam for a beautiful show. No walking is allowed in the park — only cars crammed with people are allowed through. Sit back, roll down the windows, open up the sunroof and enjoy this luminescent display. There is no technical cost, but small donations per car are appreciated.
Park Place Ice Skating
Grab a friend, sibling and your balance. The Ice at Park Place is
an adorable skating rink in the common area of the shops and restaurants. Although smaller than other ice skating rinks, this outdoor area makes for a close, intimate environment. Price starts at $11.
The Nutcracker
This show is a classic holiday story
and is great for any age. Performed at the Kauffman Center, come watch the story come alive through dance alone. The show has been redone and this year is the debut of the newly-redone performance. The Nutcracker is on the more expensive side, as tickets are any- where from $29-$119, but the experi- ence, especially if you are not exposed to ballet, is well worth the money.
---
Holiday Traditions
"Every year around Thanksgiving, all of the family on my mom and dad's side get together at Lake Lotawana. It's really awesome because I get to catch up with them all since I don't see them that often." — junior Adam Owens
"I celebrate Christmas. One holiday tradition we have is my siblings and I will sleep in one room. Then I'll wake them all up, and be like, 'Santa Claus is here!' They get excited. We also always make cookies for Santa and a seven-pound nut cake." — junior Azia Lynch
"This isn't really a tradition, but this year for the first time, my friends and I are having Indian Friendsgiving. It'll be my friends and I surrounded by a bunch of Indian food. It's going to be awesome. " — senior Cameron Smith
---
Loco for Hot Cocoa
Although delicious, drinking the same, simple hot chocolate in these harsh winter months can become repetitive. Here are some twists on the classic hot chocolate we know and love to keep your cup interesting.

Peppermint Hot Chocolate
Serves: 2
¼ cup cream
1 tbsp sugar
1¼ cups whole milk
½ tsp vanilla
½ tsp cocoa
¼ cup semisweet chocolate chip morsels
1 tbsp peppermint baking chips
1. Add cream, sugar, milk and vanilla to a small saucepan over medium heat, and bring to a boil.
2. Remove from the heat and add cocoa, morsels and peppermint to the saucepan.
3. Whisk until everything is melted and smooth.
4. Pour into mugs.
Recipe derived from chowhound.com
Red Velvet Hot Chocolate
Serves: 4
4 cups whole milk
¼ cup granulated sugar
10 ounces chocolate chips
1-2 drops red food coloring
Marshmallows, optional
Shredded chocolate for topping, optional
1. Put milk and sugar into a medium saucepan.
2. Bring to simmer on medium heat, and stir to dissolve the sugar.
3. Remove from heat, and stir in chocolate chips with a whisk until melted.
4. Stir in red food coloring and vanilla.
5. Pour into mugs.
Recipe derived from mccormick.com
Nutella Hot Chocolate
Serves 4
1½ cups milk
⅓ cup Nutella
1 cinnamon stick
Marshmallows, optional
Shredded chocolate for topping, optional
1. Bring milk to a simmer over medium-high heat.
2. Add nutella into the pot, and stir until completely mixed.
3. Add cinnamon, and bring to a simmer.
4. Pour hot chocolate into mugs.
Recipe derived from thekitchn.com
S'mores Hot Chocolate
Serves: 3
2 cups milk
1 cup water
¼ cup cocoa powder
2 tbsp chocolate syrup
2 tbsp sugar
Pinch of salt
Crushed graham crackers
½ cup marshmallows
1. Heat milk and water in a saucepan over medium heat until warmed through — about five minutes.
2. Add in the cocoa powder, chocolate syrup, sugar and salt, and whisk until combined.
3. Meanwhile, melt a few marshmallows in the microwave, and put crushed graham crackers into a separate bowl.
4. Rub melted marshmallows onto rim of mug for stickiness, and then dip mug in graham cracker crumbs until well-lined.
5. Pour hot chocolate into mugs.
Recipe derived from minimalistbaker.com
Blue Valley's Favorite Hot Chocolate
Red Velvet 44%
Peppermint 27%
Nutella 16%
S'mores 13%