A COVID-19 Halloween
How to celebrate Halloween during a pandemic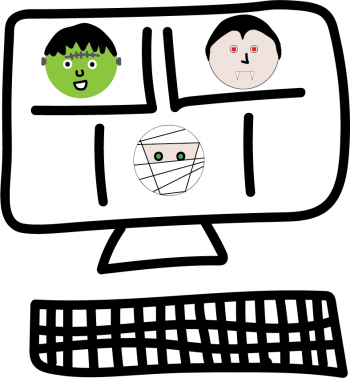 It comes as no surprise that as the eighth month of quarantine approaches, many of us are frustrated by not being able to celebrate Halloween with costume parties and trick-or-treating, especially during a year where the holiday falls on a Saturday and a full moon. Despite the situation, there is still a way to celebrate the spooky holiday: a virtual Halloween party.
Movies: With services like Houseparty, Zoom, Netflix Party, and Airtime, streaming movies with your friends is easier than ever before. For a more lighthearted film, "Hubie Halloween" is available on Netflix. The movie features Adam Sandler, Kevin James, at least 6 Disney actors, 4 Saturday Night Live performers, and more well-known actors. For those who love Tim Burton, Johnny Depp, and Winona Ryder, "Edward Scissorhands" is available through a premium Hulu subscription. Also, for the classic film lovers, "The Silence of the Lambs" is available on Netflix.
Snacks: What's the harm in, literally, treating yourself? Stock up on your Halloween favorites: M&Ms, Reece's, Kit Kats. Try a new Halloween candy. For a more fall-themed option, head to the Louisburg Cider Mill for some cider donuts. Decorate Halloween-themed cookies and show them off at the party if you like to bake. 
Setting: Compensate for a "lost" Halloween with an outrageously outdone setting. Turn the lights off and opt for some candles instead. Fake pumpkins, fall leaves, and twinkle lights combing for a softer autumn background. If materials are scarce, experiment with virtual backgrounds. You could also play a Halloween soundtrack in the background with classic songs like the following: "Thriller" by Michael Jackson, "Ghostbusters" by Ray Parker Jr., and "Heads will Roll" by the Yeah Yeah Yeahs.
Activities: Apps like Houseparty and Psych!, as well as Game Pigeon, a free iMessage extension, allow users to play games with friends who are far away. The website "Wildly Different" provides escape room activities through Zoom. You can also tell scary stories, play Mafia or truth or dare, or even dress in costumes and do scary makeup like you usually would and have a competition on who's is the best. Other options such as pumpkin decorating, cookie decorating, and pumpkin carving are more difficult to execute, but can still be done if everyone has the materials.
Regardless of how you spend your Halloween, make sure to stay 6 feet apart from anyone you're not quarantining with and wear a mask that covers your nose. For more information on how to stay safe on Halloween, check out the CDC's special Halloween guidelines.