Out of this Country: Students prepare to travel to international locations for the summer
Abby Bamburg, Entertainment Editor & Caroline Meinzenbach, Opinions Editor
May 29, 2013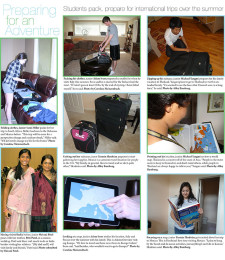 Michael Yangmi- Thailand
On June 2, junior Michael Yangmi will travel with his immediate family to Thaila
nd to visit their extended family that lives there.
"Another reason is that my cousin is graduating from high school and we will be attending her graduation," Yangmi said. "We are also going just to go and have a good time."
Yangmi said he will be very busy since there is so much to do in Thailand.
"Most of my family that lives in Asia live in a city called Chiang Mai," he said. "We will spend most of our time in that city spending time with my family that live there. My Grandpa als
o owns a college that we go to and spend time on campus with the students. Towards the end of our trip my family is going to a city called Phuket that has the absolute most amazing beaches and natives in the world."
Yangmi said he will not be surprised by the change in culture because it is so integrated into his family in the U.S.
"The people are very open [in Thailand] to talking," he said. "The best way I can explain it is that most people there aren't shy and will easily talk to and help strangers. People in the states seem to keep to themselves and don't mind others, while people in Thailand are always happy to talk to you."
Since Thailand is so far from the U.S., Yangmi said he is least looking forward to the long flights.
"The flight itself is super boring," he said. "The last time I went it took 26 hours of being in a plane. It took multiple flights so the changing of the planes also gave me a headache."
Yangmi said the best part of the experience will be seeing his family he hasn't seen since he was young.
"I'm excited to see the faces that i haven't seen in a long time," he said.
Yasmin Herdoiza- Mexico
In late June, junior Yasmin Herdoiza will travel to Mexico for a family leisure vacation.
"My family, in general, likes to travel and we do it quite often," she said. "My mom also found a really good deal with our time-share company for a trip to Mexico."
Herdoiza will be traveling with her parents and sisters while her brothers stay home.
Because of the hot weather and beaches, Herdoiza said she is excited to do activities that she can't do in Kansas.
"I plan to hang by the beach and do ocean activities, just anything I can't do i
n Kansas," she said. "This trip will be great but it will be no comparison to any place I have visited in Europe. My favorite locations include Santorini, Greece and Rome, Italy."
Herdoiza said she knows what to expect when going to Mexico based on what she has seen and heard from her friends and in Media.
"Because I'm at a resort, I feel like the main stereotypes of Mexican life will be amplified for the amusement of the guests of the Hotel," she said. "Basically, I'm prepared to see some sombreros, side of the pool tequila shots from wild teens/housewives and stereos blaring salsa music."
Although the trip is supposed to be for fun, Herdoiza said there will be some downsides.
"The bad parts will be the annoying drunk people, the alcoholic beverages left on the beach everywhere and sun burns," she said.
Herdoiza said the overall feeling of the beach is going to be the best part about the trip.
"I'm looking forward to the warm sand beneath my toes, the non-humid air, the sound of the ocean waves and the feeling of the tide," she said.
Adam Ivers- Italy
As school ends, junior Adam Ivers prepares to travel to Italy and France on May 31 until returning to the U.S. on June 15.
"Me and my family are basically going just for a family vacation," he said. "We love to travel and have never been to Europe before. And besides, who wouldn't want to go to Europe?"
Ivers will be accompanied by his immediate family as well as family friends.
"The family that will join ours is super rich and staying there for a month," he said. "But we only see them for like a week when we're in paris."
Ivers said the main thing him and his family plan on doing in Italy is going sig
ht-seeing.
"We're going to Florence, so probably seeing all that reinsurance stuff," he said. "It's supposed to be a lot better than Paris but I'm still looking forward to paris more, except for the people. I'm not racist, I just hear that French people are egotistical and rude."
Because of the differences between the US and Europe, Ivers said he is prepared for a culture shock.
"Well, people [in Italy and France] will probably be less patriotic, since their countries aren't as awesome as america," he said. "Also, the social conduct as well as the meals should be different. And their money is weird. Euros?"
Ivers said the food in Italy should make up for the long flights and rude people.
"I can't wait to non-stop eat the italian food in Italy," he said. "If I don't gain at least 15 lbs. by the end of my trip, I have failed myself and the starving kids in Africa."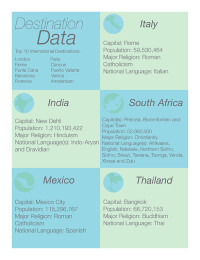 Shivani Patel- India
This June, junior Shivani Patel will be traveling to Ahmedabad, Gujarat, India to visit her grandmother.
"I'll be there one month," Patel said. "[My dad and I] will visit family and friends. There's nothing better to do there."
This will be her eighth trip to India to see various family members, including last summer. She said the culture there is very different compared to America.
"People are very rude there," Patel said. "They push you around when they figure out you're from the United States, and it's not hard to figure out you're from the U.S."
She said there isn't much to do there besides visiting with relatives.
"I'm looking forward to feeding the cows," Patel said. "There are tons of cows roaming around on the streets, and you can just go up and feed them."
Patel said her leas
t favorite part of visiting India is the unwelcoming atmosphere.
"They people are so rude," she said. "I don't like it at all."
Most of her relatives live in India, and she said they rarely visit to
America.
"Since they don't come here often, we go there," she said. "It's nice to get to see them. Most people around here have family really close. It's just a little different for me and my family."
Sami Miller- South Africa
For her sixteenth birthday last year, junior Sami Miller was given the opportunity to go on a trip to Africa.
This July, Miller will travel to South Africa with her dad and an American guide because Africa is dangerous to go without one.
"I'm going to help out kids in Africa," Miller said. "My dad wants me to see how other people in the world live. It's my birthday gift – a belated gift."
She will be there for two weeks.
Miller said she expects the trip to be a whole new experience.
"I think it's definitely going to be an eye-opener because I've never been around stuff like that," she said. "It's going to change my perspective."
She said there is only one downside to the trip.
"I'm not looking forward to the vaccinations I have to get," Miller said. "i don't like things sticking inside my skin."
Miller said she is excited for all the new and different things she'll get to do while in Africa.
"I'm looking forward to seeing different animals," she said. "While I'm there, I'm going on a safari. I like to see exotic animals."
Miller has also traveled out of the country to the Bahamas and Mexico. She said the trip to Africa will differ from the others because it will change her life.
"Those trips were for leisure," she said. "This trip will be more for a perspective change and a culture shock. It'll definitely change my life for the better."