Child Development students learn about parenting, test their abilities
Motherhood.
It's something that many women choose to pursue as an adult.
When walking around the hallways of Blue Valley, many Sophomore, Junior, and Senior students carry life size babies in carriers with a diaper bag. This is because they are enrolled in the course child development.
Child development is a class where students learn the basics of motherhood. They discuss the responsibilities of a mother, what leads up to motherhood, how to take care of a baby, and much more.
There are four different areas of development in a baby. Emotional is understanding and handling personal feelings and emotions. Social is the interactions with others. Cognitive is thought and language skills. And lastly, Physical is the growth and development of the body.
All of these areas must be considered when learning how to raise a child. The major assignment in the child development course is taking a electronic baby baby home for one weekend. During that time, the students are expected to take full responsibility for the doll as if it was their own baby. This includes treating the baby with care, never leaving the baby alone, and tending to its every need.
Many students find this project exciting, but time consuming as they learn everything it takes to become a mother.
"I like taking care of the baby because it's similar to taking care of a real baby and it shows us how a real baby would act," Child Development student sophomore Mallory Brady said. "It teaches us how hard it is. You are the only person who can take care of [the baby] and you can't get any help from anyone, which is difficult. It also keeps you up all night which is tiring."

What to keep in a diaper bag:
| | |
| --- | --- |
| | Diapers- One for each hour you'll be out, plus two extra. |
| | Wipes- Wipes are perfect not just for diaper changes, but also for sticky hands and dirty surfaces. |
| | Hand sanitizer- For cleaning your hands after diaper changes when there's no time or place to wash them. |
| | Changing pad- Many diaper bags come with a reusable changing pad, or you can buy one separately. A hand towel from home will also do. |
| | Plastic or biodegradable bags- For storing soiled diapers, clothes, and baby blankets. Just make sure your child can't get to them, since plastic bags (including the biodegradable versions) pose a suffocation risk. |
| | |
| | Snacks- Depending on the age of your child, this could include a jar of baby food or finger foods. |
| | Sippy cup filled with milk, water, or juice |
| | Blanket- You can use it to cover your baby or as a changing pad. |
| | Extra clothes for your child in case of an accident. |
| | Pacifier or other comfort item. |
| | Sunscreen or a hat to protect your baby from the sun. |
| | Emergency information- Make sure you have the phone numbers of your family's doctors programmed in your cell phone and health insurance cards in your wallet. |
About the Writer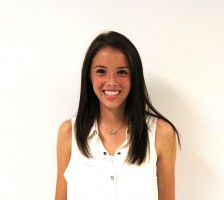 Cassie Nichols, Staff Writer
Sophomore Cassie Nichols is a first-time staff writer for Tiger Print. She loves to write and is super excited to be a part of the newspaper staff. She...