Trip of the summer
Student travels to Greece for family trip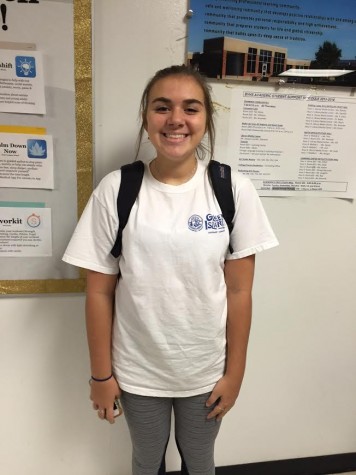 This past summer, freshman Lexi Drosos flew across the Atlantic Ocean to Greece with her mother Kristine Drosos. Over a two week period, they traveled to three different cities while they were there, including Athens, Nafplio and Loutraki.
The main reason she went to Greece was for a wedding that took place in a town in Athens called Kifisia. Lexi said the wedding and Greece was exactly like the movies. She said everything went smoothly, and it was so beautiful, which made the wedding even better than it was before.
"I was in Greece for a wedding. It was spectacular — they had this huge chocolate fountain — it was the most amazing thing ever. They had this bridge, and fireworks went off of it when they kissed." Drosos said.
Lexi said she has a lot of family there, and they don't know English very well, so Lexi and her mom had to learn a little so they could get around.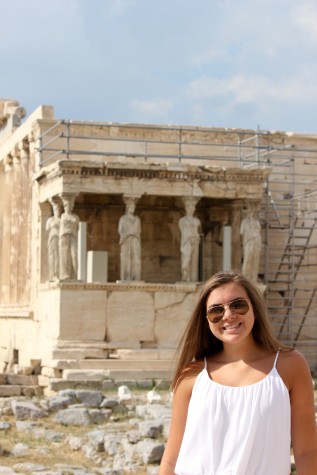 "All of my relatives live in Greece — aunts and uncles, cousins and people that branch off from there" Drosos said.
Lexi said she had few problems while in Greece, the cities ran out of money.
"The government shut down all the banks so nobody could take money. Only the American's could get them" Drosos said.
Lexi said one of the reasons the banks closed was because the Union that they were apart of owed too much money to the government, so they wouldn't replace it.
"The people got really nervous, and went to the ATMs with their debit cards and took out all the money they could" Drosos said.
Ten days into the Drosos' trip their money eventually ran out and so did the ATMs. They then had to call their uncle to see what they could do.
"My uncle said 'I can take you to a town far away from the city to find an ATM with money and there won't be a big line'" Drosos said.
Lexi said there were some differences from the United States in places like Starbucks.
"They sold a lot of things there like we do here," Drosos said, "but they had coffee cake in a Greek version, and there was cheese, and the pastries were a lot different."
Drosos said that the food was outstanding.
"I probably gained about 20 pounds in Greece," Drosos said. "I stuffed my face every night. They had the best watermelon you will ever taste in your whole life. It was the best food I could've had in my life. I wish I could eat it every day."
Lexi also said that she wouldn't want to go anywhere else in Greece because she loved how things were in the cities she went to like the beaches, shopping areas, and scenery.
"We pretty much just chilled on the beach and relaxed, and we went to the beach and I met my 'greek boyfriend' named Vangelis," Drosos said. "My mom and I met up with people from my church who have a house there, so we got to see that. In Athens, we went shopping most of the time. The coffee shops were really good."
Drosos' said her trip was very laid back. She said she really didn't have anything to worry about while they were there. Lexi said didn't have to check her phone to see what the latest drama was, and she said that was one of the best parts.
"Definitely my favorite part of going [to Greece] was being able to relax and have downtime to myself. Also seeing another culture because I always talk about being Greek, but actually going there was really cool" Drosos  said.