Pulling Strings
Senior orchestra members discuss highlights, commitment to department
The musicians are seated in a semi-cir- cle, bows perched hawk-like over the strings. Deep, full sounds resonate throughout the room.
The classical sound and elegant dress of the performers reflect art in a way not found in other Blue Valley departments. A refined precision and skill is unique to the stringed instruments in the perform- ing arts hallway.
Seniors Mercedeh Tavacoli and Josie McKenna have been part of orchestra since their freshman year. McKenna said being a senior member of the group has been a rewarding experience.
"It feels like a lot of responsibility, but it's good," she said. "I'm probably going to miss the other kids and the feeling when we get a piece right."
Tavacoli said her status as a senior in orchestra allows her to have more influ- ence. This she has achieved through an orchestra leadership club she is in charge of with orchestra member senior Alethea Gochenour, Tavacoli said.
"The group dynamic is different this year because we have a ton of underclass- men," she said. "We've tried to incorporate bonding as much as we can with different activities. It's our responsibility for every- one to get to know each other."
The group works well together, McK- enna said, and orchestra class is a good way to interact with more musicians in the school.
"Everyone is equal, and we have an amazing dynamic," she said. "My favorite thing is meeting kids from all the different grades."
McKenna said there are some key dif- ferences between band and orchestra.
"It is more difficult to play orchestra instruments loudly," she said. "We play more classical music than the band."
Tavacoli said a contrast between the two music groups is their seasons — band does competition-based performances first semester, and orchestra competes second semester.
"It's frustrating when people don't real- ize that band and orchestra are completely different," she said. "They're complete-
ly different instruments with distinct
sounds. We prepare music throughout the year, but we only have Regionals and State in the spring."
McKenna said shows are a big part of what the group is doing and is grateful for the spirit of those who attend their shows.
"I wish we had a few more people show up," she said. "The fans we have are great."
Tavacoli said she is pleased with the department's growth.
"Orchestra has been getting a lot more attendance because the group has gotten bigger, and Tiger Pride has supported orchestra as well," she said.
Orchestra is unlike any other class, Tavacoli said, and it provides her with a creative outlet to alleviate pressure from other activities.
"I'm going to miss having a class that is not solely academics," she said. "Having music in the day helps relieve some stress. It's just different than just having to do worksheets, listen to a lecture or read. My favorite thing about being in orchestra is having a class where I can get away from homework and tests in school and just play music."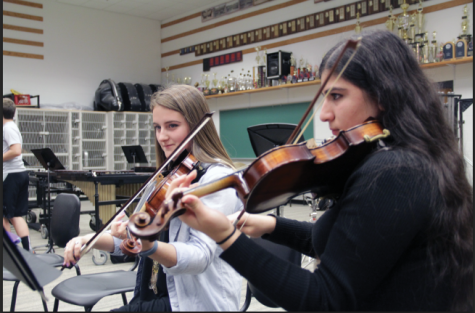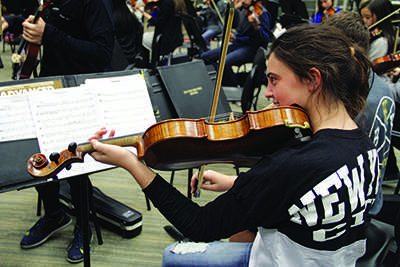 About the Writer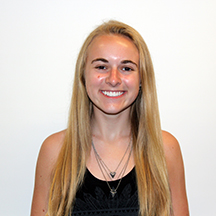 Rachel Lock, Web Editor
Rachel Lock is the News and Web editor for "The Tiger Print" and has been on staff for three years.  She is part of the theatre department including...