Lending a Helping Hand
Hospital volunteers share experiences with patients, reflect on service's effects
Many students from Blue Valley volunteer at hospitals and research centers as a means of gaining experiences and more education. One of these students is senior Sid Hegde, who has been volunteering at St. Luke's South Hospital for thre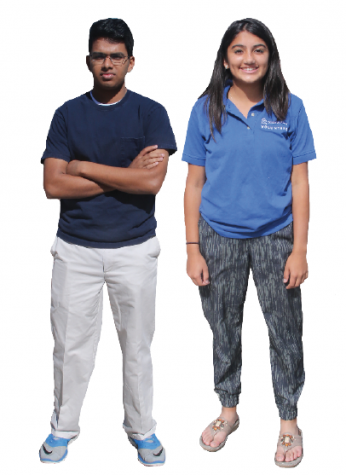 e years.
"I transport patients, so I take them in their bed or their wheelchair from different wings of the hospital," he said. "Sometimes I discharge them, too."
Junior Anisha Kodwani recently started volunteering at Children's Mercy Hospital in August but has been working at the Veterans' Affairs (VA) Medical Center for the past year.
"At Children's Mercy, I'm a pathfinder, so I work at the information desk, and I take [patients] wherever they need to go," she said. "I calm people down, and I usually walk them where they need to go. At the VA Medical Center, I shadowed the doctors and did research. We were growing huvec cells — umbilical cells — and it was fun. I made solutions [and] cleaned the equipment in lab, but I didn't get to go into the culture room."
Both Hegde and Kodwani said they volunteer for more health care experiences. As they both gain more exposure, they complete tasks that familiarize them with different areas of the field.
"When I was at the VA Medical Center, I liked going in the mornings and making the solution every day," Kodwani said. "It was so cool because I know all the chemicals that go into each solution, and I felt like I did something. For Children's Mercy, I like taking people places and having authority, but I also like calming them down, talking to the families, making them feel better and learning about them."
Hegde said his favorite aspect of volunteering is the patient interaction.
"They all have interesting stories they tell me of how they got in the hospital," he said. "The patients are better because they're more interactive and more fun."
Kodwani and Hegde both plan to continue volunteering at hospitals through high school and beyond.
They said their experiences as volunteers have helped influence them in what they want to pursue in the future.
"For research, I'm 100 percent sure I'm not interested in that anymore," Kodwani said. "I thought I would be going into the research side for the longest time. After doing it for a whole summer, I realized it was so routine. We were doing the same thing every day — we would grow the cells, look at them through the microscope and we'd see 52 one day and 53 the next day, and [the researchers] would be so excited because the results stayed consistent. I wasn't expecting that, but at Children's Mercy, seeing the doctors was really exciting — it was like a rush there."
While Kodwani's experience changed her career pursuit, Hegde's experience confirmed his future plans.
"The interactions with patients that I've had affirmed my decision to be a doctor," he said.
Both volunteers said they enjoy time spent with the patients and families.
"I just adore helping people so much," Hegde said. "My favorite part is seeing the joy of a patient who is being assisted."