Not Horsing Around
Freshman Annika RImmer's sport is a little different than others
Some people play soccer, some play football, but not for freshman Annika Rimmer, rides horses and has been since she was little.
"I've been riding my whole life but got serious when I was 5,"  Rimmer said. "Riding is the main sport I have always done. I have done school basketball and other sports like ice skating, soccer, gymnastics and other stuff, but riding was for me."
Rimmer's family is supportive of her too.
"My mom grew up riding and my dad met her like that so they love it," said Rimmer. "They love watching me ride and support me. My sister and mom also ride."
Her sister rides horses with her as well. "[I like it] when we ride together and help one another," said senior Linnea Rimmer, Annika's sister.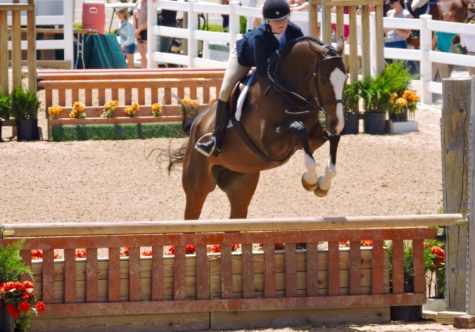 Since Annika has been riding for almost 10 years, she has three horses.
"[My horses are] Highlander, Demilia and Mario"
"The highest I have jumped is probably 4'5 (1.35- meter 35)" said Rimmer, who matches her sister's record.
Annika also participates in competitions.
"I compete and a couple times a year," Rimmer said, "It's hard cause it's really expensive and my sister also competes so just depends on the year."
However the competitions aren't always close to home.
"[For competitions] I have gone to St. Louis, Tulsa, Omaha, Colorado, Tennessee, Des Moines, local areas around Kansas and the American Royal." Annika said.
Jumping is a big part in some horseback riding competitions.
"Well it depends if it's a really good round, I get this really excited, happy feeling in my stomach," said Rimmer talking about going over jumps. "But other than that it's just like second nature to me."
But horseback riding isn't all fun and games all the time.
"I have gotten hurt. My horse Demilia bucked me off and stepped on my side, sending me to the ER."  Annika said.
But that didn't phase Rimmer, because she still rides horses.
Days at the barn are usually repetitive"Usually my friends are there so I talk to them while brushing and racking up my horse. Then once I'm done doing that I ride for about 15-30 minutes," Rimmer said, "Then I have to cool [the horse] down. When I get off, I take off his tack and depending on the temperature I either put a cooler on him, or I rinse him off.  Then I clean my tack and put it away. I either move on to my next horse or help my sister untack."
Even though horseback riding can be a lot of work, it can be rewarding, too.
"Being at the barn with my friends and going to competitions [is the best part of horseback riding,]" said Rimmer.