Selling it to State
Madison Burns competes at State for DECA Competition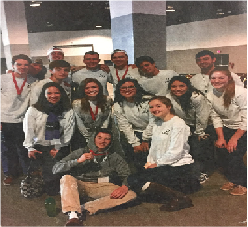 Crowds of teenagers, dressed to look double their age, prepare for a nerve wracking night of hastily scripted performances and hour-long tests, as they compete against each other to win first and go on to Nationals in the Distributive Education Clubs of America (DECA).
Among these groups of teenagers is sophomore Maddie Burns, alongside her "buisness partner" sophomore Jordan Keith competing in marketing management
Burns said she originally found out about DECA while in her marketing management class.
"I always knew I liked business, so why not try it out?" Burns said.
The competition has many branches such as business law, entrepreneurship and marketing.
Burns and Keith were able to qualify for finals in  team marketing management and team promotional planning after placing sixth in their first competition and fourth in their second competition.
"It was a really interesting experience competing at the State level. There's people from everywhere in Kansas," Burns said. "First, the amount of people at State is really overwhelming, just knowing you are one team out of 200 teams is kind of crazy"
Burns said the State-level competition was really different from regular competitions.
"They had motivational speakers and places where you can go and sit in on lectures such as: how you should dress to impress, how you should do interviews better, how to get into business, they were so insightful," Burns said. "Our competition was really nerve-wracking because the most we've ever gone against was 12 people and in our group there was over 100 people competing. In our extra event, which was our ad campaign, there were 25 people, and you can't do that in any other competitions, so it was kind of crazy having so many people competing in such a small event, and it was really fun."
There's two parts of the competition: the multiple-choice testing and the part where students perform for judges. The test covers not just the specific subject a student is competing in but rather deals with the general topic under which the subject is under.
Burns said,"The test was what I was most worried about because there's a lot of easy questions, but then there's also terminology. You have to be really focused and know what you're doing — you can't just go in there blinded."
Regrettably, Burns and Keith were not able to make it to Nationals, but there were many other teams who were able to qualify, many of whom have built a strong relationship with Burns and her friends.
"It was Jordan, Kendrick and I that were freshmen," Burns said, describing the BV DECA team. "Most of the others were juniors and seniors. You would think, 'Oh my gosh they're going to hate us,' but they were really supportive and gave us hints on how to do better. They were so supportive going into it because they knew we were nervous, and it was really fun to get to know them"
Unfortunately, Burns will not participate in DECA this year.
"I just have a lot going on this year but I 100 percent plan on doing it in high school and if I go to a college that does DECA, then I hope to be judging at a DECA competition.",Burns said.
Burns said DECA really helped narrow down what she wants to do with her future.
"Being in DECA helps you understand all of the separate parts of being in a business, and how important they all are," Burns said. "It really gave me an idea of what to do when I go into business in the future."