Queen of the court
BV student's tennis and school life
It's the Regional EKL tournament and juniors Anisha Kodwani and Elaine Zhu are battling it out together in their doubles match. With very good communication between the two and tough serves, the two lost a hard fought match.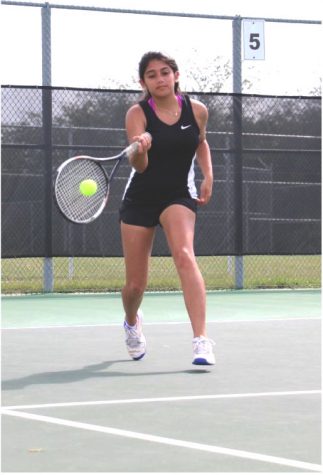 "My favorite tennis experience is probably that first match I played with Elaine,"  Kodwani said.
Anisha Kodwani: varsity tennis player, team leader, and student.
"I started playing tennis when I was 7," Kodwani said. " I started off with a lot of sports. But, tennis was my favorite just because I had fun and I made a lot of cool friends."
As a freshman, Kodwani made JV but played some varsity matches as well.
To improve she "took constant lessons and a private lesson a week."
"At Elite [tennis club] I took group lessons, three group lessons a week for four hours every group lesson," she said.
Playing so much tennis, there have been times when she has rethought tennis.
"I once had a coach at Elite that was really hard on me," Kodwani said. "I remember I kept missing my serves once, and he kept yelling at me in front of everyone. I asked him if I could go to the bathroom and I just sat there for the last 30 minutes of my private lesson and cried. I've definitely faced hardships, but I've just learned to deal with it and move on. I know I'll never quit though, because tennis is a lifelong sport."
In terms of team chemistry, Kodwani says it's very nice environment and the team does a lot of bonding. A fond memory of Kodwani's is her freshman year when the team stopped at their traditional restaurant, Brahm's, coming back from a tournament in Emporia.
"I remember we were eating at Brahm's and Coach K [the girls tennis coach] pulled over and tried to trick us," Kodwani said. "Me and [a friend] thought she'd left us and were freaking out, it was so funny. I almost started crying, I was so scared. But honestly, that is the funniest team memory to look back on."
"I think Anisha is great," girls BV tennis coach Kimberly Francis said. "Anisha can be very coachable, which I think is very beneficial."
Kodwani is a very inclusive person and likes to include and engage with everyone on the team, whether they are at the same practice as her or not.
"She builds relationships really well," Francis said. "Especially this year, I saw that with having 18 freshman on the team and the majority of the team being new faces. I feel like she really got out there and got to know people."
In terms of managing her tennis and school, Kodwani says it can be really hard and tiring at times. A typical day for her during tennis season is going to school early to do homework, and then after school, if it's a match day, she won't get home until around 7 p.m.
Once she get's home sh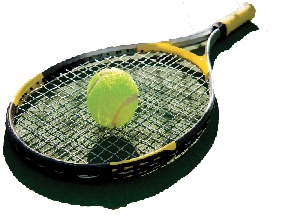 e eats dinner, tries to do homework but she said she is mentally and physically drained from the day. Usually, she wakes up around 4 a.m.to finish her homework, and then cycle continues. Along with all her normal school commitments, Kodwani is the secretary of the French Club, Co-President of SAS, part of DECA and FCCLA, as well as volunteering at Children's Mercy and researching at the VA medical center.
"Anisha does a really good job with time management," Francis said. "I can't even think of a time that her commitment has ever been a question."