From First year to First place
Freshman cheerleaders give an inside look into the BV Cheer championship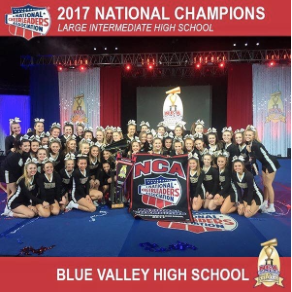 While it took a tremendous amount of effort for every BV cheerleader to help facilitate the first place win at this year's National Cheer Association competition, three freshmen at BV definitely had their work cut out for them.
Freshmen Paige Faust, Maddy Kang, and Olivia Wells all participated at this year's national cheer competition, and they each agree that the hard work and effort they put into the routine definitely paid off.
"Leading up to [nationals], we practiced almost every night from eight to ten," Kang said. "Everyone was exhausted and burned out, but it was worth it."
Faust said that the cheerleaders took a trip at the beginning of the year to Oklahoma that helped everyone on the team bond.
"Going on trips really helps us bond," Faust said."Even if other people are older than you, you still have a really close relationship with them."
The bus ride to nationals, which was about ten hours, also helped the team connect with one another, Kang said.
The cheerleaders have been practicing the routine they performed at nationals since the beginning of the year.
"In the summer, we had two different choreographers come in and teach us routines," Wells said.
Learning the routine, Kang said, was difficult for her as a freshman.
"[It was] frustrating at times," Kang said. "I had to really work on it to make sure I knew where I had to go. It came pretty naturally after that."
Faust agreed that memorizing the performance was tough.
"It was kind of hard for [Kang, Wells, and I] to learn the routine because we got put in a month before nationals. Only some people make it. We had to learn all different parts of it," Faust said.
Each of the cheerleaders said that they thought performing at Nationals was different than performing in front of the school.
"Before, everyone was really nervous," Wells said. "You don't really talk, you just fidget with things."
"Everyone supports you before [you perform]," Faust said.
"It's hard to explain [how you feel] when you're competing. I sort of blacked out during the performance and went into autopilot," Kang said.
After hours of rehearsing the same routine, the work proved to be extremely rewarding for all of the BV Cheerleaders when it was finally announced that they had won the national championship.
"[Winning] was crazy," Wells said. "People were crying and everyone was really happy. It's good to see that all of our hard work payed off."