Caden + Braden = Dream Team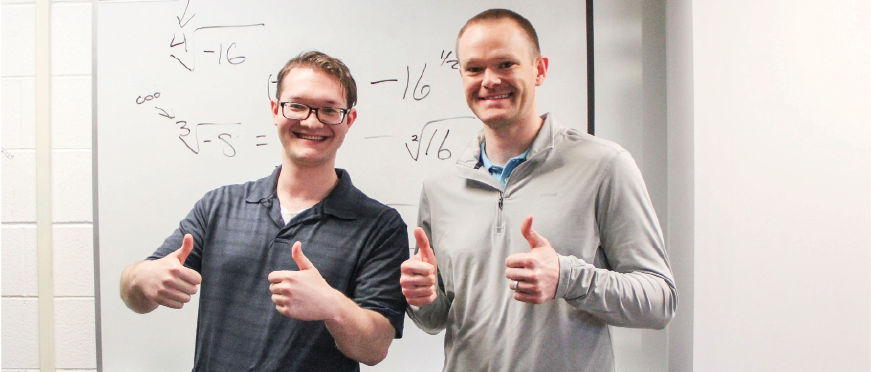 The start of a new semester always brings about changes. For math teacher Kyle Braden, that meant making room for one more educator in his classroom, student teacher Caden Laptad.
"I have not had [a student teacher] before," Braden said. "When they asked if I wanted one, I told the district to send me Mr. Laptad's information. I looked at it and saw that he went to K-State and had a lot of the same experiences I did, so I knew we would be a good fit personality-wise."
Braden said his assessment of Laptad has turned out to be accurate.
"Part of the reason I wanted a student teacher was [to have] somebody to bounce ideas off of," Braden said. "When you teach for a long time, you can get pretty set in your ways. It's always good to have somebody else's thoughts on things to see if there's a better way to grade or a better way to teach a lesson."
Laptad said he became inspired to become a teacher his sophomore year of college through the tutoring he did for people who lived in the same dorm.
"One day I walked out of a tutoring session with a friend of mine and was thinking, 'What am I going to do with my life?' All of a sudden, I was like 'I was teaching,'" Laptad said. "I realized that a huge part of me is helping other people grow. Teaching was the place for me to [do] mathematics but also to help people grow as individuals and as learners."
Laptad and Braden work together on lessons, curriculum and grading.
"He's done a lot to help me with my work," Braden said. "He's been coming up with creative activities that help the students review the material that we've taught. He's helped me by grading some of the tests and quizzes, and he's been teaching a ton of classes as well."
Laptad said he enjoys the way their duties are split.
"Even in days where I am not teaching a lesson, there will be places where I'll jump in and teach a part of the lesson," Laptad said. "It lets us really work off of one another and see what things are effective and what things aren't. I love being able to take the extra time that I have in some places to create new activities and new ideas."
One of the things Laptad enjoys most about student teaching is the hands-on experience, he said.
"I've been studying for the last two and a half years, specifically in education, and I'm finally getting to do it," Laptad said. "You can talk about how people learn, but until you're actually there doing it, it doesn't fully click."
Although he has only been teaching a couple of months, Laptad said this experience has been a great learning opportunity.
"I've learned that you really have to tailor your instruction to the needs of your students," Laptad said. "Learning to balance the needs of your students and the interests that they have and the ways they engage are the most important pieces."
Braden said their partnership has been good for both of them, and Laptad will be a great teacher one day.
"I feel very blessed that Mr. Laptad, coming into student teaching, already knew what he was doing," Braden said. "He's going to be a very successful teacher. Everybody, when they start, has a few things they need to learn, but the great thing about him is he didn't have a ton he needed to get better at. He's doing a great job already."