Cool Off @ the Cove
Local business brings new ice cream to KC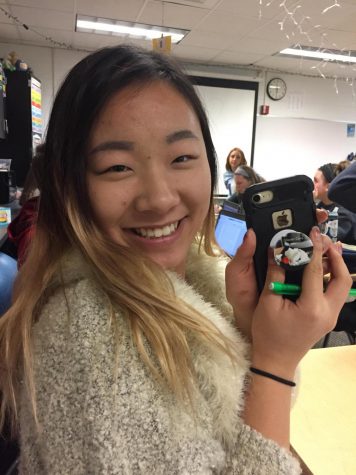 Ice cream exists all around the world in various forms. Each culture has their own spin on this cool and classic treat. In Italy, there's Gelato. In Thailand, there's rolled ice cream. And in Kansas, there s snowflake shaved ice, brought to us by Glacier Cove.
Shaved ice, as the name describes, is ice cream that has been shaved to produce a light and airy dessert. It is commonly found in Taiwan, which is where the Wang family first discovered this delicacy. Annie Wang, sophomore and co-creator of Glacier Cove describes how her family came up with the idea for this business.
"We were in Taiwan eating shaved ice, and my mom said 'hey, let's open this (in Kansas),'" Wang said, "but everyone was serious and I still don't know how it happened."
Glacier Cove opened its doors June of 2017. The cafe's ice cream is unlike any other's in this area.
"Honestly, there's nothing like what we have here. It's a completely different experience," Wang said.
Tori Ward, a sophomore and friend of Wang, credited the texture of the ice as the component that sets this ice apart from others.
"The ice is so light and fluffy, and when it mixes with the syrup and sits on your tongue, it starts to melt deliciously," said Ward.
Glacier Cove, located on Metcalf Avenue, is also known for their Boba teas and other Taiwanese goods. Ward described Glacier Cove as "absolutely delicious [with] a mix of cold and warm drinks and treats for any season."
Glacier Cove's Mango Boba tea is a customer favorite said Wang.
Glacier Cove's creative menu arises from brainstorming sessions with the whole family.
"We throw stuff around late at night when our family is just talking," Wang said.
In addition to their chilled goods, Glacier Cove will also sell warm items during the winter.
"We have added wonton soup and noodles" Wang said. "The wonton soup is up and rising as we just released it."
Not to worry though, because although there will new additions to the menu this winter, Glacier Cove will still be selling their signature ice cream and teas all year long.
Glacier Cove will be open during most of the winter break, but it will be closed during the holidays to give the family a break from the craziness that is involved with running a business.
The Wang family isn't new to this commitment, though. Entrepreneurship appears to run in the blood of the Wangs.
"My mom owns Fyann Company, which is a wholesale store," Wang said, "My brother has his business Trexseo with his business partner."
Despite their background in opening new businesses, Wang was still nervous when her family decided to open Glacier Cove.
"I was and still am scared," Wang said. "I'm really surprised by the whole [business] in all honestly."
Opening up a new business adds a lot of stress and commitments to the whole family. Annie and her brother, Max Wang, are both involved members of Student Council and partake in many difficult classes in school, in addition to helping out at Glacier Cove.
"I'm constantly worried about the business, and my mom overworking.
The whole family dynamic is thrown off, but we try our best," Wang said.
Wang and her brother use their heavy involvement with school to spread the word about Glacier Cove. At school, the siblings can be seen handing out coupons and promoting their business.
The Wangs also rely on social media, such as snapchat and instagram, to spread awareness about Glacier Cove, its products and it deals.
Glacier Cove sells merchandise for its many devoted followers.
"Buy our popsockets and shirts," Wang said.
Glacier Cove is a place where students can come to study as well as enjoy some sweet treats.
"You can take your study group there, get some food or drinks and study at one of the many tables they have," said Ward.
Students may qualify receive a discount at Glacier Cove.
"They have a special deal for students after school until 4 [p.m.] where everything is half off," Wang said.