She's Seventies Savvy
A teacher is recognized for her stylized home in South Kansas City
A cherished educator and friend at BVHS takes her art career one step further by sharing her 70's inspired home with Design Sponge, a blog catered towards interior design, and the lives of artists all over the country. Ms. Pickell, Design Fundamentals, Photography, and Textiles teacher found out about Design Sponge when she stumbled upon a feature they posted covering another Kansas City abode.
"I sent them an email with some photos and info about my home to see if they would be interested in featuring it," Pickell said. "I was surprised to hear back from them, they do thousands of home tours and I wasn't sure if my home would stand out like the others."
Pickell's feature, titled "A Missouri Home With a Storied Past," was posted in early January of this year, and has gotten lots of attention since then from readers of Design Sponge. Through comments, women praised her for her savvy seventies skills.
"They sent me a series of questions based on my original submission. Questions geared to specific characteristics of my home and the story, which is what Design Sponge was excited about sharing," Pickell said. "I love many different decorating styles but I draw the most inspiration from mid-century modern homes and interior design books. I think I've struck a good balance between modern and vintage in my home and my decorating style is a true reflection of me."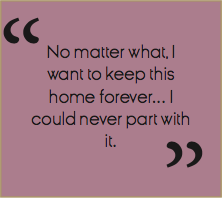 Through many years of schooling at both the Kansas City Art Institute and Rhode Island School of Design, Pickell got her fair share of art exposure and is able to transfer that knowledge to many areas of her life, including her home.
"My love for interior design started in college when I was exposed to architecture, famous furniture, and product designers. I loved helping my mom decorate our house growing up and was naturally drawn to mid-century interiors. I often get inspiration from vintage textile pieces and like to see the way textiles can be used in the home," Pickell said. "My favorite piece of art in my home is a large painting by one of my best friends from college, Paul Anthony Smith. The painted is 'Untitled' and was gifted to me while I was living/working in Chicago."
As an art teacher, Pickell is exercising her creative brain every day. However, when she goes home, she gets to escape into her mid-century modern dream.
"My favorite space in my home is the living room. It's the heart of the house and has views of most of the other rooms and a great view of outside through wall of large windows. This is also the room with most of my largeplants, which I love to look at," Pickell said.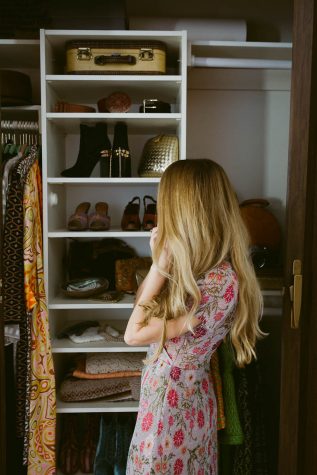 Though Pickell has transformed this home into her own with her pieces of art, furniture, and her cats, she holds the story of the previous owners, Bill and Betty, deep in her heart.
"The couple who lived in my home before me designed and built it in 1973. The house was tailored to their specific interests and hobbies and where they lived out their years of retirement. I am lucky to have been left many of their special memories, including, photographs, slides of the house being built, books, textiles, furniture, art supplies, and lots of different decorative objects. I connected with the house immediately and even more so after I learned more about the people who used to live in it," Pickell said.
Pickell has made an impact not only on the readers of Design Sponge but also her students. Senior Kaysha Foil, a close friend and student of Pickell, as well as a reader of Design Sponge, was totally impressed by Pickell article.
"When Kristen showed me her feature, I was in awe. Though I was not surprised, since she is the queen of vintage, I was so proud of the work she had put into her home," Foil said. "I hope she never changes it."
Pickell, happy with her home and with the story she has made, building upon another, does have plans to expand.
"There is always more to be done! I'm quite happy with the way things look currently, but I always have little projects planned, and am always on the look-out for pieces for my home," Pickell said. "No matter what, I want to keep this home forever. That doesn't mean I will personally live in it, but I could never part with it."