Worst Comic Podcast Ever
Physics teacher hosts series discussing comics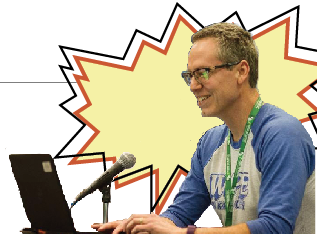 While most people can't stand listening to a recording of their own voice, one Blue Valley teacher records himself talking once a week.
Physics teacher John Holloway started a podcast with some friends to talk about something they all have in common — their love for comics.
Holloway said the idea for the podcast came after he and his friends from middle school wanted to start on a project for a while.
"We became friends because of comic books and because we collected them," Holloway said. "As you get older, you have families, mortgages and you just get busy. We talked about starting a project together for a while. A few of us had blogs about comics, so we started talking about something we could start on together. We came up with the idea to start a podcast."
Holloway said the group struggled to come up with the name.
"It's called the Worst Comic Podcast EVER," Holloway said. "When we first started recording, there were a lot of names already taken. We kept going back and back, and we decided to go the opposite way."
The topics on the episodes each week are on everything surrounding comics, Holloway said.
"We focus on comic books but also comic-related movies, TV shows or anything else going on in the world of comics," Holloway said. "We probably talk mostly about things currently happening, but occasionally we talk about classics. Sometimes we'll go see 'Star Wars' [and] then talk about it on the show. On an episode that recently came out, we talked to the creator of Planet Comic Con and interviewed him."
Holloway said the group has gotten the chance to meet comic creators through this endeavor.
"Before the podcast, I might've gone and maybe said 'Hi' to a creator and gotten an autograph," Holloway said. "Now I'm given the chance to actually sit down and interview people that I never dreamed I'd actually have a conversation with. It's just been really cool to interview some of my favorite creators."
His daughter, freshman Miranda Holloway said her dad spends a lot of time working on the show.
"This podcast has been such a great opportunity for him," Miranda said. "He's been able to meet cool new people. I would say he puts at least 5 to 10 hours a week into recording and editing."
Miranda said the podcast has created an interest in comics for her.
"I've been on it once or twice," Miranda said. "My dad is always super interested about what's going on in the comic book world, and it's something I really like to listen to. It's helped me get a little more into comics."
After starting the podcast, Mr. Holloway said it was easy to work out any technical problems that came up.
"Often times, divvying all the work up can prove to be difficult," he said. "I thought we would have a problem coming up with ideas, but there's always so much going on with comics every week, it's quite the opposite. It's more like, 'What are we going to have to leave out this week?' For us, most of the challenges have been pretty easy to work through. We're also willing to ask people for help."
Mr. Holloway said the podcast has been a unique opportunity to meet people.
"One of my favorite things is to talk to someone I've admired for a long time, and they turn out to be awesome," Mr. Holloway said. "Not everyone is like that, but I've had a chance to interact with people that have been absolutely fantastic."