Employed Exploitation
Teens experience harassment within the work place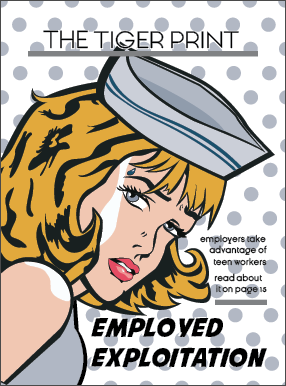 In the News
It was reported that 38 Michigan businesses were in violation of wage and child labor laws on Dec. 12, 2019. This discovery was made through investigations conducted by the U.S. Department of Labor's Wage and Hour Division.
A total of 167 minors that were found working in violation of the Fair Labor Standards Act. Of these minors, 132 of them were working outside of legal working hours for minors, and the remaining 35 minors were employed within hazardous conditions or positions for their age.
Ten minors from the ages of 15 to 17 were performing hazardous occupations for minors, such as using heavy machinery, operating trash compactors and making time-sensitive food deliveries. More than 30 minors, ages 14 and 15, were found working jobs prohibited for the age group. The remaining more than 100 workers were employed outside allowed work hours.
The businesses owed a sum of $94,501 in civil money penalties for violating child labor laws, with only $92,194 being paid.
According to the Kansas Department of Labor, "Under the Fair Labor Standards Act, children under 16 can work between 7 a.m. and 7 p.m." From June 1 through Labor Day, evening hours are extended to 9 p.m. as an exception.
Minors "under 16 can work up to three hours on a school day, 18 hours in a school week, 8 hours on a non-school day, 40 hours on a non-school week," according to the Kansas Department of Labor.
Expert's Opinion
After around 40 years of law experience through the Johnson County District Attorney's Office, the Office of the Kansas Attorney General and representing clients in employment and business litigation attorney Rick Guinn gave insight into the laws surrounding child labor, for which they don't see many cases.
"Unless it's a class action lawsuit where there's a large number of employees involved, the extent of monetary damages that exists for somebody that's likely many times working minimum wage doesn't make it financially feasible for attorneys to take those kinds of cases," Guinn said.
Guinn talked about how many of the cases he sees involving teens and their workplace involve inappropriate behavior of other workers towards the teens.
"[If] they have been touched or harassed inappropriately, and they want that activity to stop and the employer doesn't do anything about it, then the employer becomes liable," Guinn said.
Guinn believes another reason they don't see many of these cases is that employers know they can face serious charges if caught in violation of child labor laws or other workplace laws. He also spoke about the abuse of the hours teens can work. By Kansas law teens are only allowed to work between the hours of 7 a.m. to 7 p.m. during the school year.
"[Breaking of this law seems to be] more prevalent, not tremendously prevalent, but more prevalent in the restaurant industry and the food service industry," Guinn said.
Luckily for teen employees, there are ways to report mistreatment or unfair work environments.
The Kansas Department of Labor has a website that provides for an employee to lodge a complaint. You fill out the questionnaire that they have on their website and then the Department of Labor will look into your complaint.
"You have to make a decision — do I want to go to the manager and complain because sometimes that ends up with you being ostracized?" Guinn said. "But if it's bad enough, you should go and complain."
Lilly Curtwright
Like many teenagers, junior Lilly Curtright was in need for some extra cash. At the age of 15, she decided to pick up a busser job at a restaurant in Martin City, and for her nine months of working there, Curtright faced several mistreatments, such as the length of her shifts.
According to the U.S. Department of Labor, a 15-year-old can only work till 7 p.m. on school nights and 9 p.m. on weekends. Although these laws are in place, many workplaces overlook them.
"I would get off work around 11:30 at night," Curtright said. "I was aware of the law but I knew that my boss did not care."
In addition to working late, Curtright said the environment itself was extremely hostile.
"It was a very stressful job — the waitresses and owners would always get mad for little things," She said. "If you were already going to do something, [the owner] would tell you to do it faster [or] yell at you for stuff that other people did. It was stressing me out to the point where I would go home and cry."
Curtright's boss demanded odd tasks, which only amplified the negative experience.
"She didn't want anyone who wasn't eating at the restaurant to park in our parking lot, so you would have to go up to strangers and tell them they can't park there," Curtright said. "We would have to stand in the cold for around an hour, even if it was winter."
Although Curtright found the treatment to be unfair she did like one thing and that was the pay.
Curtright was making Missouri minimum wage, $8.60, plus the tip out at the end of the night where she'd earn $40 to $100. Despite this, Curtright couldn't stand feeling unsafe in the work environment.
Curtright quit after spending nine months bussing and she has now gotten a new job at Tanner's. After working in a new restaurant, she truly saw how badly she was treated previously.
Curtright felt it was important that she was safe and happy where she was working.
"In the end, the money wasn't worth the stress," she said. "It definitely wasn't worth being treated that way."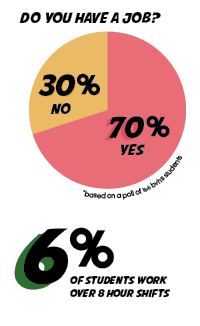 Husam Younes
On a hot day in August, with the start of school right around the corner, junior Husam Younes went to the pool with friends — he later found himself and his fellow teenage co-workers crammed in a Target office, told they would all soon be laid off.
After being denied to work at the Starbucks at Target, Younes was offered to work as a cashier for the store. Wanting to quickly find a place to work, he accepted the position, later realizing why the spot was opened in the first place.
"The people I worked with were nice but the management was pretty bad," Younes said. "If you tried to take off work for a certain day, they would always make you feel guilty about it."
Being a part of theater, Younes would have to rerarrange his shifts––however, Target seemed to ignore his requests.
"They don't care about your schedule — they make you follow their schedule," Younes said. "If you went to go talk to [management, they] wouldn't fix it."
When Younes would come to his shifts, he said the Target managers would ask if he could work afterward as well.
"Almost every shift they'd [ask] 'Can you stay an hour or two longer?'" Younes said. "I would always hesitate, but I'd say yes. I wanted to show that I cared about my work."
Though Younes and other past Target workers thought the work environment was unfair, they were paid higher than the minimum hourly wage of $7.25.
"I was paid $14.50 an hour," Younes said. "I think they pay that much to cover up the fact that the management is terrible."
As the end summer began to roll around, Target started to hire more workers, most of whom were out of high school or had already retired from a past.
"What happened was we were getting overstaffed, and one day some of us were called in an office," Younes said. "They basically were telling us how they're going to [start] firing us. Most of the people that were [going to get] fired were teenagers."
Almost immediately, Younes, who had been working at Target for 10 months, was angry — most of his co-workers feeling similar emotions.
"We were mad because we worked there for so long. I felt like I was actually putting in a lot of work and when [I was assigned my shifts] I would always try my best to show up," Younes said. Knowing that they were going to lay me off like that didn't make sense. At that moment, most of us got up and said we quit now, and then [we] left the store."
Looking back, Younes realized the extent of his unfair treatment — and not just him, but other high school students in work environments.
"I think teenagers that work are still thought of as little kids and places of work will just take advantage of them," Younes said. "I've texted some of [my old coworkers,] and they felt the same way. They're happy with their new jobs."
Younes said is important for teenagers to have work experience, but that shouldn't mean they are driven to the ground because of it.
"I encourage people to go get a job but make sure you don't overwork yourself," he said. "Communicate with your managers, and stick to your schedule because that job needs you more than you need them."