More Than Meets the Eye
BV students, professionals discuss struggles with body image

**The Tiger Print staff acknowledges there is sensitive information about eating disorders. The content in this article may elicit unwanted reactions from those struggling with similar matters. Please read at your own discretion.
Statistics based on a poll of 230 students
Misconceptions in the Mirror
Over the past 20 years, social media has become a prominent part of everyday life for teenagers. However, with the rise of social media has also come an increase in low self-esteem and body dysmorphia, also known as BDD.
BDD is the misconception a person has about their appearance. It can also contribute to disordered eating and other body-image related disorders.
According to a study done by the Florida House Experience, a national correlation is found between the use of social media and BDD. Approximately 87% of women and 65% of men compare themselves with other users, with 50% of those women and 37% of those men experiencing BDD symptoms.
This study found the information to be supportive of the claim that increased exposure to social media leads to increased BDD related thoughts, especially with the rise of influencers who have a lithe body type.
Content presented on platforms, such as Instagram and TikTok, aid in promoting muscular and thin body types. Algorithms are designed to showcase its thin users on explore pages, causing teens to continually be exposed to what they are led to believe is the ideal body type.
According to the same study, participants reported a muscular figure was the most represented on social media, while 67% of participants reported a softer build was underrepresented.
COVID-19 and quarantine have caused a rise in harmful content. "Thinspo" posts showcased at-home workouts, while "fatspo" served as motivation for viewers to workout in order to prevent weight gain. Trends such as "what I eat in a day" describe what its user ate in order to maintain their figure or lose weight.
Several of these videos promoted unhealthy eating and exercise habits. Users were unknowingly exposed to content covering body comparisons, disordered eating and unhealthy exercise routines.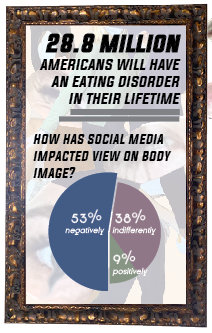 While social media sometimes has a negative impact on a teen's perception of themselves, users have begun to use their platforms to enforce body normalization and positivity.
For example, user Effyourbeautystandards on Instagram embraces body positivity. She also focuses on spreading awareness to her followers in the form of informational graphics and features of other confident social media users to help normalize all body types.
Social media has the potential to both positively and negatively impact a person's view of themselves.
In order to prevent the harmful effects social media can cause, the American Addiction Centers recommends teens struggling with BDD remove feeds that cause negativity, follow users who spread body positivity and seek help from a doctor or licensed professional.
Cole Dickey
After struggling with his weight for years, junior Cole Dickey recently decided to make a change.
It wasn't until Dickey had his measurements taken for the school musical that he wanted to take on a healthier lifestyle.
"I've been insecure throughout my whole entire life," Dickey said. "I've always been the bigger kid."
During quarantine, Dickey set a goal for himself.
"I wanted to lose about 20 pounds," Dickey said. "I ran three miles every single day, did Chloe Ting workouts and ate a lot healthier."
Overall Dickey ended up losing 52 pounds. Although this change for him was amazing, it came with many mental and physical challenges.
"It affected me mentally because everyone said that I couldn't do it — but when I did it, I felt so accomplished," Dickey said. "It was the hardest thing in my whole entire life that I've done. I see all these people with abs or with a slim waist [on social media], and I've always wanted that."
As Dickey went through his weight loss journey, he began to share his experiences on TikTok, where he has 137,000 followers.
"I posted my first TikTok about my weight, and it got roughly 100,000 views," he said. "I had random people DMing me on Instagram and Snapchatting me [telling me how much I had motivated them on their journey]."
Although Dickey made the decision to lose weight, he still grapples with his appearance.
"I still struggle with body image issues — even after I lost the weight — but I've been a lot more confident," he said. "Throughout the summer I've posted more Instagram photos with my body in them, [which I would have never done before]."
Although losing weight was the goal, he accomplished his goal in a healthy way.
"I researched what I should eat and what I should not," Dickey said. "I never stopped eating. I just watched what I ate and stayed away from unhealthy options. I understand it can be really hard, but at the end of the day, it's your body — it's you fighting yourself. Make sure to do it for yourself and no one else."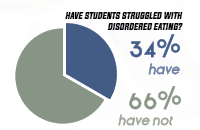 Nikki Walters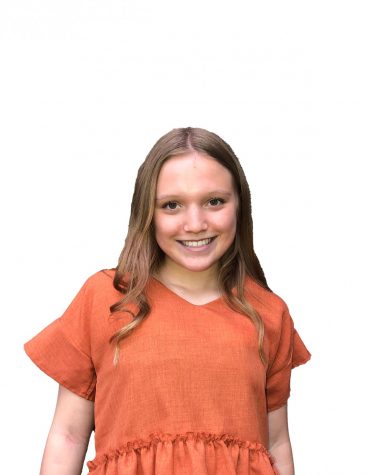 Nearly 30 million people in the United States will suffer from an eating disorder in their lifetime, yet more than 70% will stay silent about it.
Sophomore Nikki Walters strives to end the stigma revolving around eating disorders and let others know recovery is possible and not something to hide or go through alone.
"I started developing my eating disorder in May 2018," Walters said. "I didn't really get diagnosed with [anorexia nervosa] until about eight months later."
After attempting recovery at home, she soon found it was ineffective and began receiving care at Bellator, an intensive outpatient treatment facility. However, after a couple months, her parents and the staff there realized she needed more help than she was getting and switched to Laureate, a treatment center in Tulsa, Oklahoma.
"I would say my turning point [in recovery] was when I was admitted to the hospital for the first time," Walters said. "It was my first weekend, and my parents were struggling taking shifts sleeping at the hospital with me and going to work."
Adjusting to 24-hour care and having to talk to her parents about her emotions was one of the most difficult parts for Walters.
"My dad loved me, but he didn't understand why I was doing this to myself," she said. "He was angry a lot. Just seeing him happy with me eating kind of changed it for me — that was my motivation."
Walters was in treatment for roughly six months but said she will always be in recovery. Nevertheless, she gained techniques to help her keep her mind away from thoughts of disordered eating.
"Covering my mirrors helped the most for me," Walters said. "Even the mirrors in my room, I keep covered with sticky notes with positive affirmations."
She recommends throwing out clothes that don't fit or make you feel less confident.
"Clothes are supposed to fit you, not you fit the clothes," she said.
Walters wants to remind others to stay away from talk of dieting or praise surrounding body image.
"Compliments that people think are compliments to people with eating disorders are not," she said. "There's so many other things that you can compliment someone by without making it about their appearance."
Walters knew she was ready to share her story with others after her cousin opened up about eating struggles of her own. The feeling of loneliness was something she dealt with during her recovery process, and she wanted others to know there are so many people available and willing to help.
"I started [my recovery account],
@recoverywithnikki, to spread awareness and let other people know it's OK to struggle," Walters said.
Looking back, the biggest takeaway her eating disorder gave her is that life is a gift and shouldn't be taken for granted because you feel you're not enough.
"Seeing what [your eating disorder] can do if you don't give time to yourself is really heartbreaking," Walters said. "It destroys your mental health and your ability to socialize and have fun with others."
It was hard for Walters to discuss her eating disorder at first because she thought it was a sign of weakness. She wants others to know it doesn't make you any less of a person.
"Just know that you're not alone," Walters said. "You have support around you, and that's not going to change."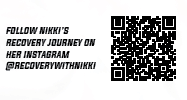 Experts' Opinions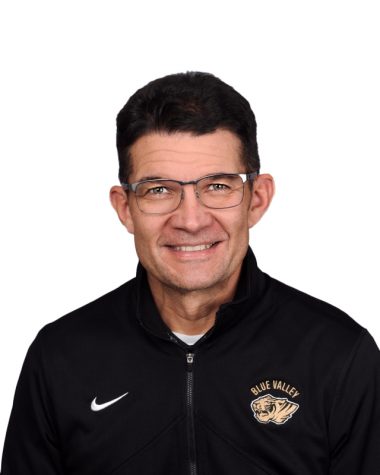 Newly appointed school psychologist Todd McCarthy acknowledged the dangers and the mentality of people suffering from eating disorders and body dysmorphia.
"Some people have a very poor self image because it's in their psyche or the way they developed," McCarthy said. "When you look at people that have bulimia or some other type of eating disorder, they [might be] remarkably thin — but [in their eyes] it's never thin enough."
BV alumnae Serena Nangia and Sophia Nangia recently moderated a panel called The Realities of Different Body Types in the U.S. Nangia is an associate at Caroline Sarah Ventures (CSV), an organization focusing on women who have been through challenging circumstances.
During the panel, founder and CEO of CSV Caroline Johnston shared her struggle with various eating disorders and the mindset that came with them.
"I struggled with anorexia, and then it switched to bulimia nervosa; through that time I was really struggling to be someone else and to create this image that was different," Johnston said. "I also was partaking in the catwalk and different modeling agencies, and I felt the pressure from skillful models that were being successful. I was really striving — but for the wrong reasons — to look different."
McCarthy said trauma and unfortunate experiences in life can be other major stemming points for these disorders.
"There's the concept that psychologists talk about in research called nature versus nurture," McCarthy said. "There are things we're born with and there's things created in us because of the experiences we've had in our lives."
Before becoming a psychologist, McCarthy worked for five years at the Johnson County Juvenile Detention Center (JCJDC). According to McCarthy, JCJDC students' past experiences could trigger them, affecting the way they acted around certain people.
Alongside Johnston, podcaster and mental health advocate Nōn Wels spoke about his own battle with disordered eating and how it started from his bad childhood.
"My father was pretty abusive, just a vile human, and both of my parents are narcissists," Wels said. "When you're in an environment like that, and you're as sensitive as I am, you start to feel [like] you want to shut down emotionally. My eating disorder amalgamated out of me trying to mediate their marriage. They were married for 30 years, and my dad was just sleeping around and punching people — it was awful."
Correlating with Wels, McCarthy recognizes the effect that childhood trauma can have on the mind and how it can lead to disordered eating.

"[Eating disorders] are often based in trauma — pinpointing the trauma is hard, [as is] getting people to accept that there is an issue," McCarthy said. "Following through the treatment plan and process [is] even more difficult because it's touchy."
McCarthy believes it is highly important to discuss serious topics like these in order to help people further understand the threats of these matters.
"We rightfully so have spent a lot of time dealing with teen mental health issues — The Zero Reasons Why campaign is phenomenal," McCarthy said. "This is one of the things that doesn't get talked about that much. It is real, and the damage that can be done is very real, not just psychologically but physically."