202ONE Hopeful
Gymnast finds herself on the road to the Olympics

Blue Valley is home to hundreds of student-athletes performing in a multitude of different sports, but very few of them get close to the caliber of senior Leanne Wong.
Wong got her start in gymnastics when she was young.
"My dad originally wanted me to be an ice skater, but I guess I really didn't like it, [so] he found a gymnastics gym close by," she said. "Of course, he wanted the best gym in the area. My coaches were really great, and I just loved [gymnastics] a lot more."
Her parents continued to be her cheerleaders for the next 12 years.
"My support definitely comes from my parents and my family," Wong said. "They've gone to like every single one of my meets. They've been really supportive and taking me to the gym and just keeping me going."
To prepare for higher-level competitions, Wong trains with her team GAGE, Great American Gymnastics Express.
"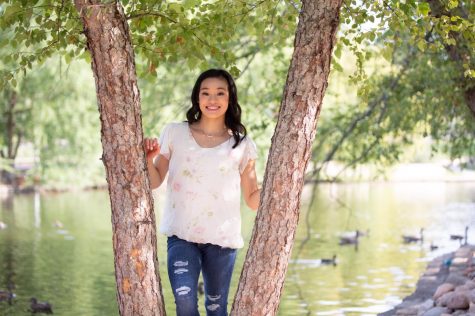 The whole arena is watching one person— all the cameras are on you.
— Leanne Wong, 12
"I'm coached by Al Fong and Armine Barutyan," Wong said. "They coached previous Olympians and lots of elite athletes as well, so they're pretty experienced."
Wong is now a member of the U.S. National gymnastics team and has been to many high profile competitions, such as the 2019 Pan American Games and the American Cup.
"During my senior debut at the 2019 American Cup, I competed with several former Olympians from other countries such as Ellie Black from Canada and Mai Murakam from Japan," Wong said. "At the U.S. Classics and National Championships, I also had the opportunity to compete with Simone Biles. I can definitely see how her many years of experience has enabled her to perform with such great difficulty."
While Wong contends alongside current well-known gymnasts like Biles and Laurie Hernandez, she also looks to former Olympians as motivational figures.
"I enjoyed watching Nastia Liukin because I liked her gymnastics," Wong said. "She likes a little bit of a mix of artistry and power. That's kind of how I am also."
Wong's family and coaches have known for a long time that they had a rising star on their hands.
"Some people say I have wanted to go to the Olympics since I was 3 years old," Wong said. "I'm not sure how accurate that is."
This past June, Wong was supposed to attend the Olympic Trials. Due to COVID-19, the 2020 Tokyo Olympics have been postponed until 2021.
"It was a possibility for me to make the [Olympic] team — there's only four spots and over 50 gymnasts," Wong said. "We're just mentally and physically preparing because [we have] a whole other year of training. In a positive light, we get more time to improve and get more skills."
In the next year, Wong will spend more than 1,500 hours practicing at GAGE in Blue Springs, Missouri.
"It's definitely a really challenging sport," Wong said. "It takes a lot of mental toughness — sometimes more than physical."
Practices aren't the only challenging aspect of gymnastics. Competitions can be very long and time-consuming, and some of her national level competitions are even televised.
"In the senior level, you're competing one at a time, so the whole arena is watching one person — all the cameras are on you so there's a lot of pressure and adrenaline," Wong said. "But it's about trusting yourself, remembering what you do in practice, going out there to compete and just staying calm."
The possibility of the Olympics is not the only exciting thing in Wong's future. Many Division-I colleges have reached out with interest, but one in particular stole her heart.
"I recently signed to the University of Florida on a full-ride athletic scholarship," Wong said. "I loved the gymnastics facility and the coaches. The University of Florida is also one of the top gymnastics programs in the country and has a history of winning National Championships."
Gymnastics has made a huge impact on Wong's life, quite literally being her past, present and future.
"Just getting to compete and learning all these skills was really enjoyable," Wong said. "I just really love it."