Homies to Roomies
Seniors explain process of finding college roommates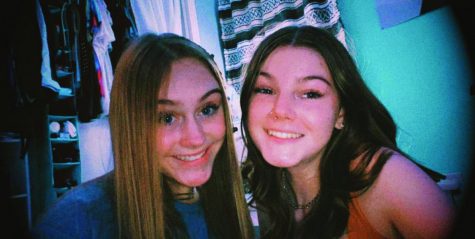 After living with their parents all of their lives, seniors Grace Wilson and Lydia Schwartz are excited to start preparing for living without them next year.
Schwartz met her roommate through the app, GroupMe, after trying out different media platforms.
"In that GroupMe, we planned to Zoom, share a little bit about ourselves and meet each other," Schwartz said. "That's how I met my roommate."
Unlike Schwartz, Wilson didn't find someone to live with over social media.
"I met my future roommate through a mutual friend," Wilson said. "Then we became best friends."
Along with both seniors meeting their roomies in different ways, the pace at which their rooming decision was made also varied.
"We didn't talk about rooming until just recently — we had Snapchatted a lot and FaceTimed," Schwartz said. "We became friends before we finally decided to room."
Despite both going to college next year, Wilson is staying in an apartment whereas Schwartz is living in the dorms.
"[The choice] was made quickly because I last-minute decided not to go to the school I planned on going to," Wilson said. "Now we're getting an apartment together."
Now that they don't need to worry about who they're living with next year, they both can't wait to gain more independence.
"I'm relieved — I won't lie." Schwartz said. "I will be able to finally have control over my schedule."