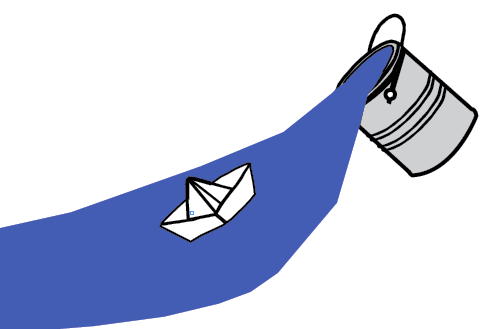 For most Blue Valley seniors high school graduation is a symbol of moving on to the next step, often entailing post-secondary education, but seniors Micah Ruth and Enoch Lopez plan to take a different path and follow in the footsteps of their family members.

"I'm taking a gap year," Ruth said. "My gap year is flat out working. I'm working and saving up money and then after that, I'm going to do Marine Mechanics [specifically the Coast Guard Auxiliary]."
Similar to Ruth, Lopez plans to enter the workforce immediately after high school.
"I plan to open a painting business," Lopez said. "I'm going to work with my dad on the business. I'm going to run it and also work for it."
Joining the Coast Guard Auxiliary will allow Ruth to follow in the footsteps of many of his military family members.
"My father is a marine," Ruth said. "My grandfather was in the Army, and he was also in the Coast Guard. My grandmother was in the Coast Guard, [too]."
Ruth doesn't plan to join the military but rather a similar career path through the Coast Guard Auxiliary.
"I love the boats, and I've always wanted to go in the military, but I never really had the guts to," he said. "[The Coast Guard Auxiliary] is pretty much the National Guard without doing everything."
Lopez will also have the opportunity to follow his family by being employed alongside them in their painting business.
"I've been working with my dad for about three years now," Lopez said. "We do interior and exterior [painting]. My brother is also going to work with me and two of my cousins."
Ruth feels comfortable around the water and is confident this will help him in his future career.
"I've been around boats forever," Ruth said. "Whether that be single outboard, single inboard, dual inboard and outboard, I know how to control a boat — that is one thing I have checked off."
Ruth also has other skills fitting for Coast Guard personnel.
"I always have that thrive of fight or flight — a lot of times it's flight. But it can be fight," Ruth said. "It all depends on what is the best option. I think it over in a matter of seconds and then take the best course of action. I'm also great in a crisis. If there's something wrong, I can take it over."
Likewise, Lopez feels comfortable with his plans as he already has experience in the career field.
"I know about the business, and I know how to run it," Lopez said. "I decided this is something I've always wanted to do, and I know I can succeed with this business."