BV is Fired Up
Seniors create videography account to excite BV community, promote involvements
Blue Valley is known by many for its unmatched school spirit. Seniors Cole Dickey and Sarah Gravitt have found a way to capture this excitement and share it through their social media account, BV Hype Films.
"Hype films are kind of trailer-like videos that get the student body excited for the upcoming game," Dickey said. "Whether it's volleyball or football, it's just something to get excited and to look forward to."
What started as a way to expand their skills eventually developed into a way of spreading school spirit, and it doubles as a portfolio for their work.
"I loved creating highlight videos, and I wanted to do more projects with them," Dickey said. "[Videography is] a passion of mine and I wanted it to grow, so I decided to start making this a natural thing."
There are several steps and procedures that go into making each hype film.
"The first thing we do is just brainstorm different sports or activities or things that we want to film and find days we could film them," Gravitt said. "Then we go film and start the editing process — we find music, we start going through our clips and just see what creatively we can come up with."
The entire process is fairly time-consuming and is much more complex than it may appear.
"It takes a really long time, especially depending on how good, let's say, we're doing at a football game," Gravitt said. "How good of a football game it was depends on how many clips we have to go through, all that stuff. It depends on what we film, but it does end up taking quite a long time."
Once they obtain the necessary components to start making the film, they find the creative aspect and attention grabber to be the most difficult part.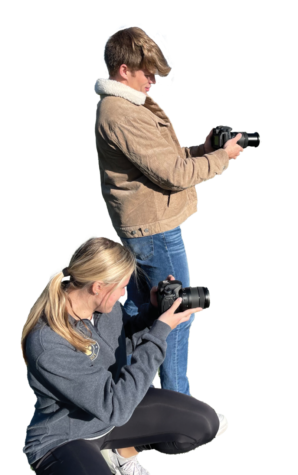 "People don't understand you need a hook for people to watch the video, and we're probably going through at least 300 clips," Dickey said.
Despite the difficulties that go into making a video, it all becomes worth it when they see the final product.
"[When] we finish the video and we watch it fully for the first time — that's probably one of my favorite parts," Gravitt said. "I get so excited watching what we put together."
The two also find the feedback they receive from students and the community — good and bad — to be very rewarding and helpful.
"I like seeing the audience's point of view," Dickey said. "People reposting, commenting, just enjoying them seeing our hard work going out into the community and making people smile — that's definitely my favorite thing to do."
Their current feed is mainly centered around sports, but they hope to expand their content to include more of a variety of activities.
"Fall has been very football-focused, which is great and everything — we love making football videos — but especially when football season comes to a close, we'll branch out a lot more," Gravitt said.
Although their career plans are still open ended, Dickey and Gravitt both agree videography is something they can potentially see themselves pursuing later on.
"I definitely want to grow and create a website — I want other big influencers to see [our videos] and maybe invite us to do bigger opportunities," Dickey said. "[For now,] we're not sure what the future holds."