Humans of BV: Catherine Bahadursingh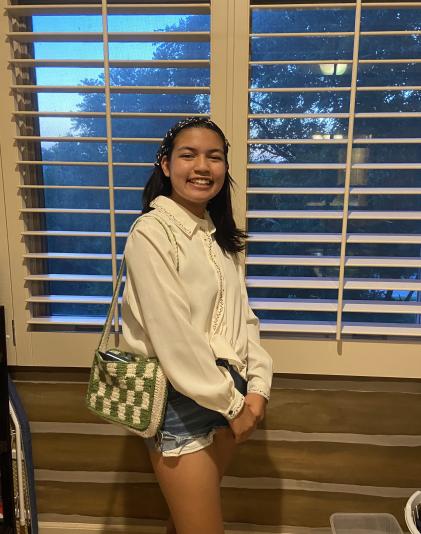 Having made paintings and digital art in the past, sophomore Catherine Bahadursingh is a very artistic person. This summer, Bahadursingh ventured into a new artistic medium: crocheting. 
"I probably crochet once or twice a week," Bahadursingh said. "I find the easiest way to finish a project is to turn on a movie or tv show, sit down, and try to get a lot done at once."
Crochet is a sewing technique that involves using a hook to interlock yarn or thread. Crochet is generally regarded as a very difficult technique to learn and master.
"The most difficult part is starting, and learning the different techniques to create things," Bahadursingh said. "Once you have learned a handful of these techniques, you can pretty much create anything as long as you have a pattern, which are essentially instructions."
Bahadursingh recommends that people who are artistically inclined try crocheting.
"It's a really fun creative outlet, and you get to create tangible, useful-ish items like bags and stuffed animals. If you have a lot of time to kill, it's kind of a perfect hobby," Bahadursingh said. 
Bahadursingh has only been crocheting for a couple months, but she has completed several projects.
"My favorite thing I've crocheted is this shoulder bag, because there is something so neat about wearing something I've made," Bahadursingh said.