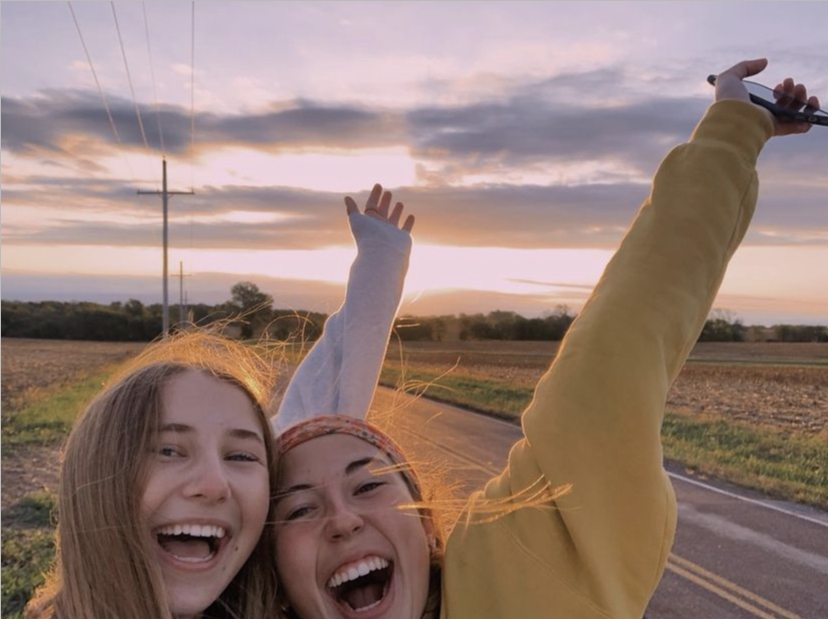 The beauty of Kansas sunsets is never overlooked by seniors Ashlyn Richardson and Logan Hays who have made it a weekly tradition to chase down the views together.
"We text each other throughout the day if we notice the weather is nice, and we'll make a plan for it and get snacks or ice cream," Hays said. "Most of the time, it's pretty spontaneous — we'll just be driving home from practice and see the sky is starting to change, and then we'll go to a spot [to watch it together]."
They have a few go-to lookout points where the view is best.
"There's this place off Mission — we pull off and go up this hill," Richardson said. "It's super clear and the sunset is so pretty. Then there is another neighborhood spot that Logan likes to go to."
The tradition began with the discovery that they shared the same passion.
"I started doing it last summer because it felt like an escape and gave me a lot of peace and joy," Hays said. "It became one of my favorite pastimes and then I noticed Ashlyn really liked doing it too, so we started [going] together."
Quarantine sparked the idea for Richardson.
"I'd always liked looking at sunsets," Richardson said. "But [during Covid] I had so much more time to be intentional with, so it became a great way to destress and be outside."
For Hays, the time spent together has been irreplaceable.
"It has grown my and Ashlyn's relationship a lot because we've had so many conversations and experiences together while chasing sunsets," Hays said. "It has allowed me to slow down amidst the chaos and messiness of life and appreciate the little graces that we get every day. There is a sunset every day, even if you don't see it, [showing] how much beauty and joy life can give."
Out of all their adventures, one treasured memory stands out.
"This one time — it was a crazy sunset — I was playing music in my car, and it was a really nice day. We went out into the middle of the street and just started dancing around," Hays said. "It felt like time stopped and there were no worries."
Although they are preparing to leave for different colleges, the sunset and the friendship it has helped to grow will keep them connected.
"Logan is going to Pitt State, and I'm going to Arkansas, so we're going to be really close to each other," Richardson said. "It's comforting to know that when the sun sets for me, there is a beautiful sunset that [she will be] seeing too." 
No matter where they may be, a symbol of their friendship and a reminder of life's beauty can always be seen in the ever-changing skies.
"It's a beautiful way to end the day [since] the sunsets are different every day," Richardson said. "Days can be hard and days can be amazing, but no matter what, you know the sun is always going to set and rise again."
|Photos submitted by Logan Hayes and Ashlyn Richardson