Putting in the Work
BV students share details of their summer jobs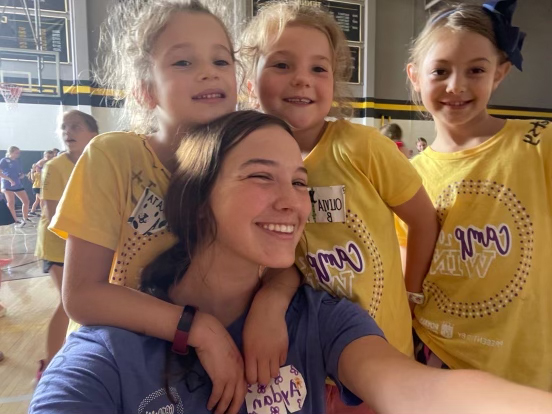 While summer can be devoted to lazy days, kicking back and relaxing, some students, like junior Carter Wright and senior Aydan Beck dedicated their time to their jobs and working hard during the break from the school year.
Beck spent her summer counseling at an athletics-centered youth summer camp. After she participated in a similar camp when she was younger, she wanted to give other children the same empowering experience she had.
"I was able to give back the same experience that I had when I was younger, so I [worked} two weeks. My first week was at St. Teresa's, and it was five days, from 7 a.m. to 4:30 p.m., and you get your phone taken the entire time. My second camp was at Lincoln Middle."
On the other hand, Wright worked through his summer at Waterway Carwash and Price Chopper.
"I work to keep me busy and to make money," Wright said. "It keeps me active in something as a replacement for school. Without a summer job, I feel like I would get bored all the time."
Wright believes that working during the summer is the way to go, remarking that in the summer he "gets more hours and I'm not as rushed, also I'm not always tired when I'm at work. After school, I only have an hour to go home, get ready, then go to work. In the summer, I have all the time I need."
At the camp, Beck had a list of responsibilities and spent her days working as the main camp counselor for her group.
"I also had an assistant camp counselor, and we led a group of about 10 elementary school-aged girls. We walked them through four sports a day and got to learn the skills and the rules behind [them]. Just basically instilling some values of teamwork and positivity and how to uplift yourself and others," Beck said. "We did softball, basketball, soccer, some of the more fun, or I guess interesting, ones were salsa dancing, line dancing, and pickleball."
Both Beck and Wright agree that working a summer job can have its downsides, like "very hot days" and the stresses of keeping up with ten little girls, but the experience is ultimately worth it. For Wright, working was about making and saving money, and for Beck, it was about connecting with the kids. But for both of them, it was an entertainment outlet to have during the long summer days.
"Everyone should have a summer job. It's a good source of money and keeps you busy all
the time." Wright said.
"I think it's a great opportunity. I honestly felt even though it's a long time commitment like I really found how to have fun through it." Beck said.