Beauty is Pain
last-minute opportunity leads to memorable experience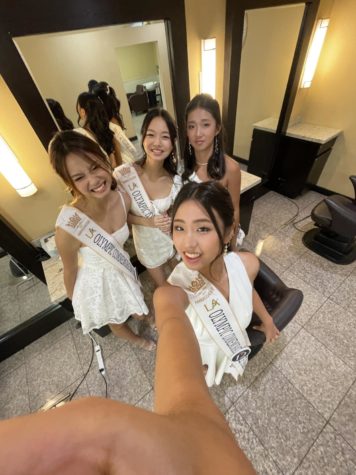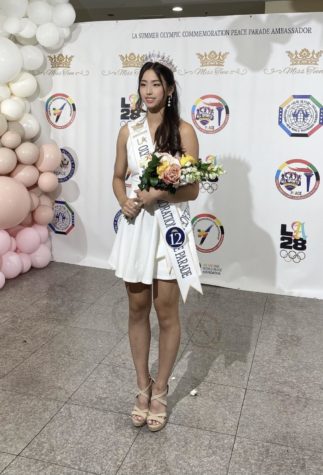 Every summer brings unexpected opportunities. Never imagining being a part of a pageant, junior Lindsay Cho participated in one this last summer.
Because Cho didn't expect to be chosen for this opportunity, she felt really hesitant at first.
"It was mainly through my aunt. She wanted my cousin originally to do it, but she was out of the age limit. So she had me do it." Cho said. "It was hosted in LA at a beauty salon, and I had to fly there during my summer."
Cho flew by herself to Los Angeles and stayed for three days with her aunt and cousin. After arrival, Cho was interviewed by a staff member after previously getting accepted by creating a video on why she should be in the pageant.
Being part of this pageant, individuals involved must look their best. Taking time to get everything perfect before the walk is very important.
"I had to be there by 7 a.m. to get my hair and makeup done, and I was done around 10," Cho said. "Then we practiced walking for two hours, and my feet hurt so much."
Unlike other outrageous and known pageants, Cho's was more chill and personable. She didn't feel overwhelmed but felt like all of the staff knew her. 
Although her pageant was laid back, Cho's pageant included a talent show. Feeling hesitant at first, Cho didn't know if she wanted to participate but ended up deciding on an instrument performance.
"We each had to present something so I played the flute," she said. "I played a piece by Mozart." 
Despite not wanting to do a pageant again, Cho had a memorable experience this summer and clicked well with all the new friends she met. 
"Go out for new things; you never know if you'll enjoy them," Cho said. "I never imagined I would have enjoyed a pageant, but I learned more about myself and gained confidence."