Fired Up: Year 2
Junior continues hype film legacy, promotes school spirit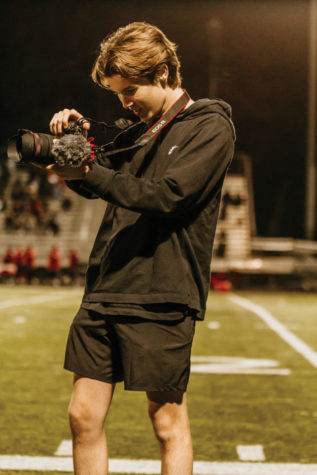 From a young age, junior Noah Johnson always had a passion for content creation. From video design to photography, Johnson enjoys upping his various projects to the next level, as well as the inspiration, gratification and student love that comes from them.
Johnson creates "hype videos" for the sporting events and other activities at BV, carrying on the legacy of former BV students. 
"There was definitely a lot to live up to — they made a lot of impact, so I want to make sure that my content is at the highest quality I could possibly produce," Johnson said. "I try to strive for a little bit better than what happened last year."
  Johnson started making the hype videos at BV's first soccer game.
"It was really awkward — nobody knew what I was doing there," Johnson said. "I was a weird guy running around with the camera telling you to yell occasionally. Now that students see the end result and trust the creative process, they get so into it. It's a good feeling when people are excited for when you're posting your next video. I have people every week ask me when the next video is going to be, and it really makes me feel motivated to continue to do what I do."
Inspiration for these videos can be found across sports hype accounts on TikTok and other platforms, Johnson said.
"Looking at their editing styles gives me inspiration for shots I want to get," he said. "If I see something really cool in the video, I try to match it or make my own spin on that shot. I don't try to shoot randomly — I intentionally create shots I know I can use later in a certain context."
After filming, Johnson's next phase in the creation process is finding the perfect song, and a strict criteria accompanies this step.
"It has to resonate with my audience, and it has to fit an epic vibe that makes [the video] feel greater than life and not like normal high school," he said. "I look for songs like that, whether that be just songs by themselves or remixes of certain songs."
Next up — editing.
"I match [the clips] to the beats and correct the colors and everything," he said. "Then [I] ship it out to the socials."
Johnson said his videos that are shorter in length tend to gain more attention across social media platforms.
"Usually faster-paced stuff seems to do better," he said. "That's really been an influence with song choice and editing style."
In addition to his BV-focused projects, Johnson also produces content through his personal company brand, nojostudios.
"[I've been] trying to build up my individual brand that I can hopefully carry on," Johnson said. "Lots of clients outside the school industry have seen [the hype videos] and they've liked my style and workflow. They've wanted to work with me because of that."
Although the hype videos put Johnson under a weekly time crunch, he feels that they provide him with many opportunities and an amazing dynamic with his fellow students.
"I've always enjoyed making content, living out my situations and elevating them," he said. "The added benefit of the student love of the content has been really inspiring, fun and gratifying."
https://nojostudios.mypixieset.com/