Creating College Paths
students at BV prepare for future education
An Early Start to a Life Planned Out
student focuses on academics for success following high school
Normally, freshmen in high school don't immediately know what they want to study in college and pursue as a career. However, for freshman Mahi Panchal, she not only knows what she wants to do in college, but all the courses she will take in her upcoming years of high school to get there.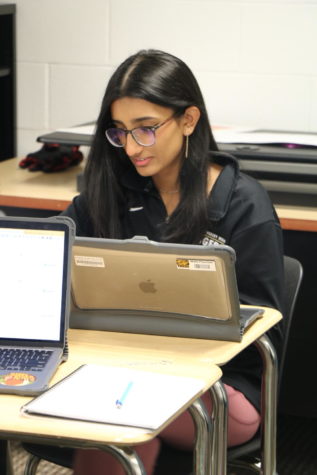 "I'm gonna take Anatomy, AP Bio and maybe AP Chem," Panchal said. 
Panchal is specifically interested in multiple science courses, as she plans to study dermatology in the medical field. Though there are many promising professions out there in the world, as a freshman, she is already set on a competitive field. 
"Out of all the careers out there, dermatology stands out to me most," Panchal said. "At a future health care [school] club meeting, we talked to a dermatologist and dermatology [impressed] me."
To get set up for the demands of college, Panchal is involved with extracurricular activities to give herself leverage. 
"I volunteer at hospitals by helping the person at the front desk [which] has helped me communicate with other people," Panchal said. "I also do ACT prep to prepare for the test and go to a prep class and do practice tests."
Panchal states that she wants to go to an Ivy League college, so to further stand out, she focuses on achieving a well-performing GPA. 
"I am striving for straight A's [to get a higher GPA]," Panchal said. "It can be challenging at times so I study hard."
Business Beginnings
sophomore starts on the path to college
For sophomore Mason Chidlow, going into business wasn't a difficult decision. With a mom in business and grandparents in entrepreneurship and franchising, Chidlow has always had a growing interest in the topic.
"I started getting into business at a young age, probably in elementary school," Chidlow said. "But I began BV Business my freshman year, where I started competing in a lot of the health events."
Chidlow has been taking business-related courses since his freshman year and is planning to continue doing so throughout high school.
"Freshman year I did Business Essentials, which is where you learn the basics," he said. "This year I'm taking Business Management and Leadership, the DECA and BPA class, where we compete in business events."
As an active member of BV Business, Chidlow has participated in a wide variety of topics.
"In DECA right now, I compete in Entrepreneurship where I do a sales presentation. Last year, I competed in Hotel and Lodging Management," he said. "In BPA this year, I'm doing Health Leadership, which was what I competed in last year, went to nationals for, and placed top 10 in the nation. I'm also doing Interview Skills this year, in which I'm learning how to make a resume that looks appealing to employers, create cover letters that apply to certain jobs and do other things that really prepare you for life."
He strongly believes that BV Business is helping him get ready for his future in the field.
"It teaches you a lot of communication skills [like] public speaking, learning how to research, creating business proposals—the kind of things you do if you get a business degree," Chidlow said. 
Chidlow is determined to be the most prepared he can be for college.
"Junior year, I'm taking the SAT and ACT prep course," Chidlow said. "During advisory, I'm doing all of the activities the counselors are saying, like creating a list of colleges and majors I want to go to and be in."
Having already firmly decided on his future profession, Chidlow is planning to go to college for two different majors.
"In college, I want to get a business degree along with some healthcare degree," he said. "I want to find out a way, after college, of how to create a business and combine those elements of healthcare and business together."
Currently, his main idea is related to paramedicine, one of the subjects he wishes to major in.
"The business I would want to create is something related to flight medicine and helicopters," he said. "Rescuing people, that's something I definitely want to do."
Through hard work and commitment, he's motivated to continue to be successful in both college and his future career.
"My favorite part is learning and expanding my knowledge on different business topics," Chidlow said. "When I go into college and I'm learning those more detailed topics, I'll have that strong foundation going in."
Running On Track
senior commits to college sport
After knowing she wanted to continue competing in track, senior Aydan Beck started preparing for college in a different way than some of her peers. In November 2022, Beck committed to Western Colorado University to compete in college-level track and field.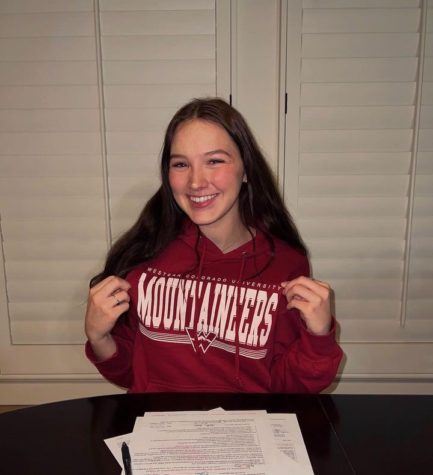 "I run track and cross country, [and played] softball for 10 years, but my junior year of high school I made the full switch to running," she said. "I wanted to do track because track was a fresh start. I knew I had some speed from running the bases at softball, but I didn't truly know how far running would take me. I was looking for a new sport, and track has re-ignited my passion for athletics. I just thought, 'This is something I might be good at, or at least have fun doing,' and I've had an absolute blast."
To start getting ready for her future after graduation, Beck started out with a simple step: reaching out.
"I prepared for college track by communicating a lot with the coaches. I emailed them a lot, set up Zooms [and] phone call
s, then eventually flew out to Gunnison to get a solid feel of the place," Beck said. "It really helped knowing what I would be going into, and knowing I would love it."
The senior is very sure about her decision on her athletic commitment, as it influenced her life for the better.
"I wanted to go into college track because I couldn't imagine my college experience without it. Track makes me incredibly happy — I love connecting with my coaches, being surrounded by amazing teammates and just running in general."
Her preparation academic-wise was like most students her age. Beck just wanted to know she'd do her very best.
"The main thing for me academically was just getting accepted to the college, then making sure I'd be academically successful," she said. "They have a really good Pre-Physical Therapy program and academic support system, so I felt comfortable that this college would set me up for my future career.
After having the realization of where she knew she'd succeed, Beck was sure of her post-high school education.
"For me, once I knew, I knew nobody could convince me to go anywhere else. I think something that's really important is doing a lot of research to find somewhere that you'll happily live for 4 years and have a really great college experience."