A National Qualifying Team Deserves A Nationals-Encouraging Space
Speech And Debate Headed To Nationals, Renovating Their Room Over Summer
To further add to all of speech and debate's achievements this year, over the summer they will be seeing many successes. Speech and debate Nationals will take place in Phoenix, Arizona, where several Tigers will be fighting for a title. One such Tiger who qualified for Nationals is senior Molly James who will compete in the United States Extemporaneous Speech.
"You get 30 minutes to prep a question that you are assigned about a current events topic in the United States," James said. "[You] get evidence, build the speech and build some analytics. Then you give a seven-minute speech about that, answering that political question."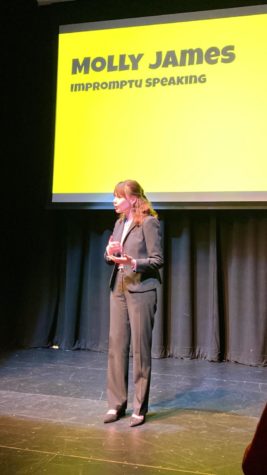 Since qualifying in that event for Nationals, James is eager for it to take place. 
"I love doing speech and debate and I love the culture of just being there because [there is] a convention center [where you] get to talk to everybody and meet people from around the country," she said. "It's a really nice and fun experience by itself."
At the same time that James is thrilled for the event, she knows she can't be carefree the whole time because the reason she will be there — the competition— still exists. This year's Nationals feels different to James than the past years' because it's her last chance to put this on her college resume. 
"I'm a little nervous about the competition because I want to do really well," she said. "This is the last big tournament I'll have before I start submitting my applications to colleges, so it'd be really great if I did well."
In order to be ready for this major competition, James has been preparing by researching and staying up to date on the current events in the news. The question she draws at the tournament could anything U.S. news or politics related, so she has to be as prepared as she can be. 
"I have been compiling a lot of my evidence [for the tournament], and I've been taking notes on current events," she said. "It's nice if you already know about the subject, [so] I'm just trying to stuff my head with all the information I possibly can."
Preparing for Nationals and then going to attend it is only one significant thing debate will be doing over the summer. Along with the competition in Arizona, they will also be renovating their classroom with personal practice rooms. 
Chris Riffer, teacher of Speech and Debate, said the practice rooms will be very helpful since there are lots of students practicing their speeches all at once.
"They will help because we can get multiple practices going on and [the students] can be more focused [and not] distracted by people around them," Riffer said. 
Renovation is set to start the first day of summer which Riffer has been waiting years for. 
"I've been wanting to do this for quite a while — probably five or six years — I'm excited about it," he said. "I'm really looking forward to how we utilize the space and I think the [students] will really be excited about it, too."