After a season filled with countless hours of practice, a thrilling run at both the State and National competitions and great memories made, the members of the BV Tigerettes Dance team found themselves apprehensive about this year's season.
With no coach and no captains appointed after last year's season ended in May, seniors Ava Wadman and Claire Younger felt stressed with their situation, yet confident that the team would find good matches. Thankfully, as the season's beginning came closer, a new coach was introduced: Alyssa Waller.
During their time on the dance team, the girls have had a new coach nearly every year.
"It's hard to switch from coach to coach because coaches have different preferences," Wadman said. "Everyone's working really hard because the older girls on the team are trying to keep what we had going on but also incorporate what's new along with that."
Younger believes Waller arrived at a perfect time, as it felt like a "fresh start" for everyone.
"We're all trying to be like sponges and absorb everything she's giving us and go with the flow," Wadman said.
After Waller was appointed as head coach, the matter of student leadership was to be decided.
"It was tough to not have captains because none of the upperclassmen really knew where they stood as leaders," Younger said. "We didn't want to overstep boundaries, so I felt like we were all walking on eggshells. It gave us a chance to grow in our leadership abilities."
After much anticipation, Wadman and fellow senior Chanie Rankin were elected captains.
"All the leaders that I've seen on the team [have] been great," Wadman said. "Trying to fill other captains' shoes makes me nervous."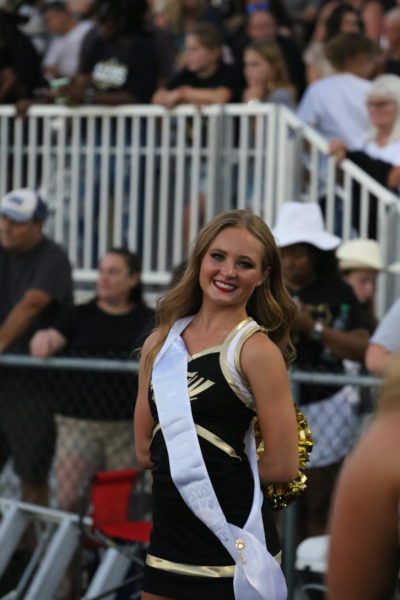 Despite her worry, Wadman is confident the season will go smoothly thanks to all the summer bonding the team participated in.
"I'm really excited for [leading] the girls to success [and] to get closer as a team," she said. "That's the most important piece — you can practice forever and ever, but if our team isn't close, we won't do as well."
Younger is particularly fond of bonding events, being dubbed the "team bonding captain." While Wadman hosted team sleepovers and scavenger hunts over the summer, Younger has planned similar activities like big and little "sisters," ice cream dates and post-football game IHOP visits for the coming months.
For both girls, Nationals is coming up hot on their radars and they couldn't be more ecstatic.
"We've already gotten the Nationals bid from NDA camp we went to over the summer," Younger said. "We got the bid from our Home and Team routine, and then we'll go to Nationals in March and perform two routines — Game Day and Jazz."
A new aspect of this season will be that the Tigerettes' Pom routine was cut from the competition lineup.
"We'll do really well because we'll have a focus on those two routines instead of focusing on three," Younger said.
Wadman and Younger have a lot of hope for competitions, as they both attest to Waller being excellent at cleaning and perfecting routines.
"I like to say that dance team — it's kind of overlooked — how much we practice and even though we're on the sidelines at a game, we put in so much work," Wadman said.
Although being a part of dance team can seem overwhelming at times, Wadman and Younger couldn't be happier to spend their last year of high school with the Tigerettes.
"I'm really excited," Younger said. "We have a lot of talent this year, and we can go really far in our competitions."