Students spirits raised
Motivational speaker catches eyes of students
Blue Valley students and faculty listened to motivational speaker Kevin Hines speak the about his depression and suicide story. Many students were touched by the story including freshman Anna Yang.
"I thought his story was inspirational because he brought a lot of things to think about that has to do with life and how you should treat everyone all of the time," Yang said.
She said his story was touching to the heart because everyone could relate to it somehow. Yang said students should ask ask someone if they were OK every once and awhile.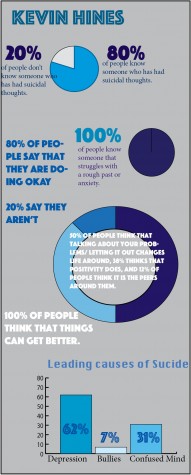 Freshman Jordan Kaseff felt similar toward the story.
"He made me feel like I could overcome all the hardships in my life and become an amazing person," Kaseff said. "He went through so many tough times in his life and managed to handle them. He even had a mental disorder that he still struggles with today and is trying to overcome it. Ever since his jump, he has turned his life around, making himself the best he can be."
Yang and Kaseff said if they were in his place they probably wouldn't have the nerve to talk to everyone about it.
"The biggest reason he is most likely known is because he jumped off of the Golden Gate Bridge and survived." said Kaseff. "But it could also be because he is sharing it to help people of all ages. He is spreading his story to help others and more people get inspired and they can share with their friends and so on."
Jordan was asked if she could hire a different speaker would she, and this is what she said.
"I would hire him again because he actually impacted everyone that was listening and made everyone kind of aware and engaged about what was going on."