The Blue Valley marching band is known for playing popular songs such as "Uptown Funk," the "Spiderman" theme song, Michael Jackson and even Daft Punk in their rock shows, which are played at assemblies and some football games. But, what some people don't know, is that the band actually spends July through October working on a competition show as well. Music and visual director Paul Bessetti said planning for the next year's competition show begins in the middle of the previous year. "I'll roll a dozen or more ideas around before I pick few that stick with me. Around mid-December [prior to the following school year], I present the ideas to our music and visual designers to see which one they seem most interested in writing, and that's the one we go with" Bessetti said. The band works on the show for about 20 hours a week, but aside from the sweaty rehearsals on the field, there are a lot of things that happen off the field. "Aside from student leaders setting up rehearsal spaces, I do a lot of score study in my free time because I have to have every single section's parts memorized," drum major Nimisha Halder said. Student leaders work with directors before rehearsal. "At the beginning of every season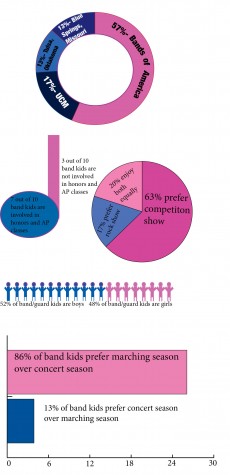 , I set a daily, weekly [and] monthly timeline for the teaching [and] learning pace of the group, including drill and music learning, prop manufacturing and implementation, choreography lesson dates a
nd, of course, music and fundamentals," Bessetti said. The band starts the seaon with 3 weeks of band camp, and they continue the season learning the show, with music, marching, and choreography. Bessetti said that he enjoys seeing the kids having fun at band. "I miss marching so much. It's a whole different game when you're out there moving and playing and I miss it!" Halder said.