News Briefs
High school student shot by police, community comes together
Blue Valley Northwest junior John Albers was killed by an unnamed police officer on Jan. 20, 2018.
During a FaceTime call, a friend and Albers were talking. However, the friend grew concerned for Albers' safety — he said Albers had taken pills and was drinking heavily. This led him to call the authorities, as he believed Albers was going to commit suicide.
Overland Park police officers arrived at Albers' home around 5:50 p.m.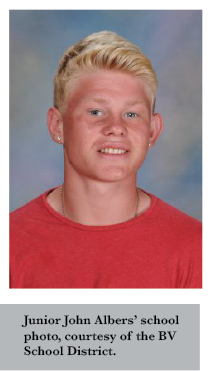 Police said responding officers approached the residence, when the garage door opened and a vehicle exited. The car moved rapidly toward one of the responding officers, who fired his weapon at the driver, killing him.
The officer who discharged his weapon was placed on administrative leave.
On the evening of Jan. 21, students held a candlelight vigil on Sunset Ridge Elementary School's playground.
An anonymous BV Northwest junior who attended the event said it was heartwarming.
"To see people [at the vigil] John impacted in some way and to see people who wanted to show support for his family and friends was truly amazing," the student said.  
The student also said Albers was compassionate toward others.
"He was always there for the people he held close to him," the student said. "He could always make you laugh or somehow brighten your day. He had such a pure heart and, honestly, to be his friend was a gift I will be forever grateful for."
---
BV staff member selected for award, discusses submission process
One day, math teacher Kyle Braden was walking in the office when principal Scott Bacon pulled him aside to tell him he had been nominated for the 2019 Kansas Teacher of the Year by his peers.
According to the Kansas Department of Education, the award recognizes and utilizes representatives of excellent teaching in classrooms.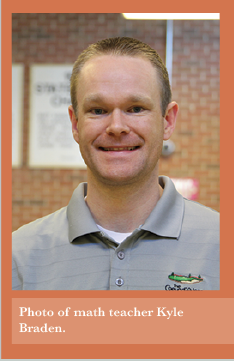 Every year, school districts nominate one elementary school teacher and one secondary school teacher. The qualifying characteristics of a nominee include being a full-time teacher in any state-approved or accredited school — prekindergarten through grade 12 — who is planning to continue in an active teaching status.
Braden said he has to complete and submit an online application for the district level award, where they will narrow the nominees to six regional finalists. If Braden makes the top six, which is announced Sept. 9, he will have an interview for the state award.
Braden said he felt honored by the nomination.
"There are a lot of awesome teachers at this school," Braden said. "Being picked for something like this is rewarding."
The recipient of the state-award will be announced at The 2019 Kansas Teacher of the Year State Awards Banquet Nov. 17.