dirty money
Students, universities react to college admissions scandal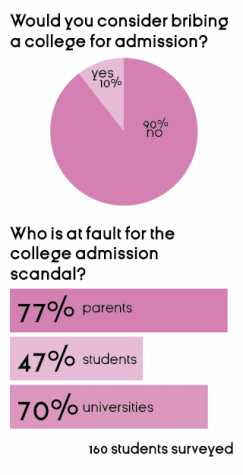 The college admission scandal, also known as the "Operation Varsity Blues" investigation, includes around 50 parents like actresses Felicity Huffman and Lori Loughlin. The wealthy parents were part of a scam in which they allegedly paid heavy bribes to buy their sons and daughters high scores on exams, a spot on one of the school's athletic teams or entrance to an elite university. Several parents and coaches now face criminal charges.
Potential Reforms:
On Thursday, March 28, California lawmakers proposed six measures to help the closing down of loopholes for students with wealthy parents to have easy entrance to elite colleges.
This would restrain "special admissions — also known as admission by exception — without approval of three college administrators, regulate private admission consultants, audit the University of California admissions process and deny state tax write-offs for donations made by parents as part of the cheating scheme," according to the Los Angeles Times.
Another bill made by Assemblyman Phil Ting (D-San Francisco) would disallow advantages to applicant's admissions that are related to the institutions' donors or alumni.
Only students at public universities would be allowed for special admissions if they are California residents and eligible for in-state tuition.
Much of the legislative proposals would affect the University of California (UC), California State University (Cal State) and potential private universities as well.
While UC and Cal State officials have stopped short of endorsing the proposed bills, they said they are open to the consideration of additional reforms.
Assemblyman Kevin McCarty (D-Sacramento) proposed the idea of possible fading out of some tests used in the admissions decisions. This would ask Cal State trustees and UC regents to conduct a study on the benefits, value and need for the SAT and ACT for student admission systems.
This is something UC is already doing, but having the resolution would help support that effort and recommend a similar review for the Cal State system.
"It's time to take a hard look at the status quo," McCarty told the Los Angeles Times, "and think about a more equitable college admission process."
Colleges' Input:
University of Missouri (MU) Admissions Representative Katherine Whitener decided she wanted to work with admissions shortly after she graduated from the university.
"I was working in a different capacity and decided I wanted to come back and work for Mizzou," Whitener said.
Whitener plays a role in the admissions process at MU to make sure the process is fair. MU's admission requirements are predetermined and presented on the website to avoid any potential bribing as seen in the recent Operation Varsity Blues college admissions scandal.
"[We look at] 17 core classes from high school and then we look at test scores, class rank and GPA — depending on the type of school the student is coming from," Whitener said. "We look at a combination of things."
Whitener and her team process the requirements and how they are determined before they are voted on by a board of curators.
"It wasn't like one person just dreamed this up and said this is what it is going to be," Whitener said. "Setting those standards is what goes through the hierarchy in terms of evaluating the application and processing things — that's done within the admissions office."
Whitener said MU has its requirements published and posted out there for everyone to see what it is they are looking for, but it is up to other universities about how they handle their admissions process and their standards.
In terms of finances, Whitener said some scholarships are run through the admissions office.
"[Scholarships are] based on a student's test score," Whitener said. "Since test scores are standardized across the entire nation, it's a fair process. Everyone is taking the exact same test, so those automatic scholarships are run through our office."
Whitener advises those applying to college to do their best in high school and to explore all of their options.
"There's a lot of different types of universities across the country," she said. "Just take the time to really investigate and make sure you are making the right decisions. Visiting campuses is really the best way to figure that out and making sure you're making a sound financial decision for you and your family."
Whitener said there are a lot of things in place to make sure that students are all evaluated equally across the board and that is why MU's requirements are in place.
"We are a little bit different — we aren't looking at the subjective criteria that a lot of those other schools are," Whitener said, "It's unfortunate that [the college admissions scandal] happened, but hopefully it'll bring some change about those selective universities and change the way they do things moving forward."
Student Opinion:
Sophomore Jack Tinberg was recently committed to the University of Louisville. During last summer, Tinberg traveled around the country on a summer circuit for colleges to see him play baseball.
"Two weeks after I got a call from the recruiting coordinator [of Louisville] for the baseball program,  I was called a couple of times," Tinberg said. "A week later, I was offered to play there."
Tinberg said the students who were said to be an elite athlete when it was found not to be the case was just plain wrong.
"Other kids have to actually try and make the team at the universities," Tinberg said. "I feel like they're honestly stealing a spot, just to get into a school where they're not even playing. They're not actually going there for athletics."
Though it was the students who were "accepted" into the ivy league schools, Tinberg said the parents are at fault.
"They did it because they want to get their kid into their dream college," he said. "But if your kid hasn't done the work or have the right test scores, I don't feel like they deserve it."
Tinberg said if he were one of the students in the recent college scandal, he'd feel guilty.
"Just because you know somebody that has money, or if your parents have money, and they're able to pay to get in, you're taking somebody else's spot," Tinberg said. "Their parents can do that."
Tinberg said people do not realize how much work students do in order to have a chance at playing a sport in college.
"Athletes have to work hard to get scholarships," Tinberg said. "For some random kid to take it that's not even actually going to participate in the sport, I think that is really wrong."