Take to the Field
As the school year kicks off, several fall activities begin preparations for new seasons, including the marching band. This year, the marching band is comprised of over 100 students who will be competing against other schools across the state this fall.
Sophomore Liz Nitzel, who plays the flute, and sophomore Brynn San-key, who plays the trumpet, have both been playing their respective instruments since fifth grade and have been a part of the marching band since their freshman year in high school.
Both musicians are excited to compete this year's new show, titled "Glow."
"'Glow' is a more abstract themed show," Nitzel said. "It's centered around a campfire, woods, and it includes older music and more dancing than past years."
Preparation for "Glow" began with learning and memorizing music at the beginning of summer and progressed to band camp in late July, where members learned how to march correctly and later the drill and choreography. Extra practices also take place before and after school as well as every other Saturday in September.
"We've finished the plot, but we now need to color in the dancing and movement," Nitzel said.
The band hopes to be completely finished with "Glow" by the Blue Valley District festival on Sept. 23.
Aside from long practices, both Nit-zel and Sankey think the marching band creates a good community atmosphere. According to Sankey, the environment comes from the teamwork and patience the band members show toward each other.
"The people were what influenced me to join the marching band," Sankey said. "They made me feel so welcome, and I love the family aspect of it."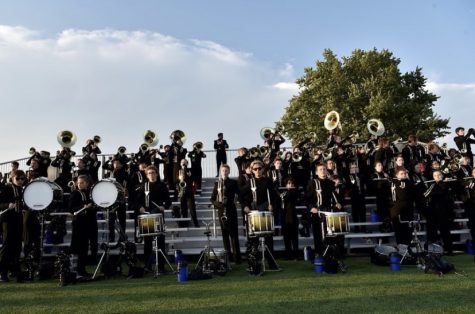 Nitzel also believes the close relationships in the marching band creates a support system for its members.
"You feel like a family knowing that you can lean on [other band members]," Nitzel said. "Everyone is trying to balance both marching band and school."
As the season continues, Nitzel and Sankey hope to continue growing closer as a band as well as clean "Glow" to be the best it can be.
"I hope that this year, we'll be able to put on the best show possible," Sankey said.