BV's Blood Drive
Students and faculty donate to Community Blood Center
On Thursday, Nov. 11, Blue Valley High hosted a blood drive run by the Community Blood Center. At the end of the day, 102 students and faculty donated.
Junior Camille Wallick was one of the many Student Council members in charge of making sure this year's drive was successful.
"[The Community Blood Center] comes with nurses [to help] people donate blood and they take about a pint of blood," Wallick said. "They usually give [the blood] to hospitals like Children's Mercy. It's for leukemia patients or burn patients."
According to CommunityBlood.org, the Community Blood Center's official website, someone in the US needs blood every two seconds – that's 35,000 blood donations needed every single day. With high schoolers being one of the center's biggest donors, it is crucial that students donate if they are able.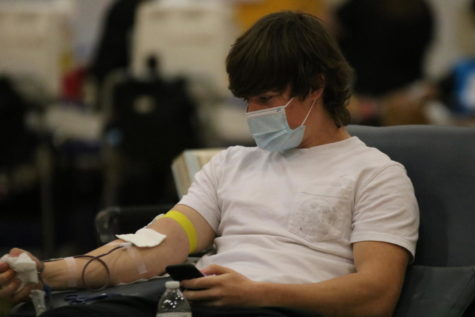 "It is a very important thing [to do], especially for high schoolers as we are usually the healthiest of ranges for blood," Wallick said.
When donating blood there is a process you must undergo to ensure that you fit the specific criteria. This includes a series of examinations, such as a physical and an anemia test as well as questionnaires regarding your height, weight, age, and overall health status.
While this may seem complicated, according to Camille it's actually quite simple.
"There has always been this stigma around blood drives that it hurts and it's painful but really it's a small needle and it's for a good cause."