Raise Your Voice
New show choir exhibits success at competitions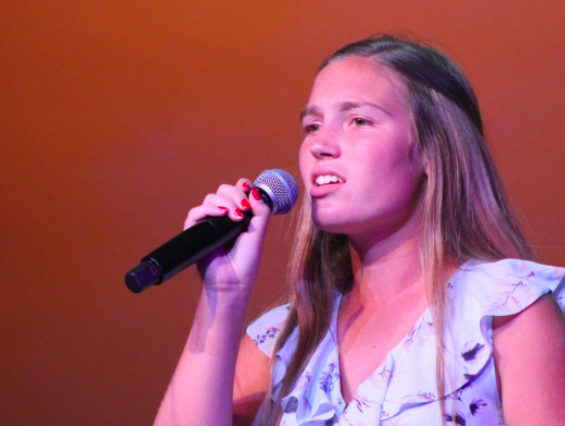 Show choir competitions have taken place in many schools in other states throughout the years, but not at Blue Valley — or in Kansas at all. For the first time ever at BV, a new generation of performing music, singing and dancing was brought together. 
Show choirs give students an opportunity to recognize and witness various performances, themes, practices and aesthetics from other schools. Senior Anna Bajich and sophomore Trevor Lewis explain show choir is more than just performing. 
"[Show choir] is a group of kids who get together and perform about five songs — there are different contrasting pieces, and one slow ballad-like emotional song. Also, there's dancing," Bajich said. "It's really fun and a good experience to see other people and how hard they work [and] to see this love of music throughout our entire community." 
Lewis agrees the show choir is filled with passionate people who put their time and effort into practicing. 
"We learn choreography and sing — then we go to compete around different places around the U.S.," he said. "I wasn't looking forward to the first competition but once it happened, it's just a whole experience itself. It's different from anything else." 
Bajich has been involved in music and singing her entire childhood. 
"Music has always been a big part of my life," Bajich said. "I started when I was younger in church choir. We had a Junior Choir that would sing [with] my sister and my cousins — my uncle directed it. I love doing it, so I just continue to do it."
Meanwhile, Lewis started his career in the music world differently than Bajich.
"My brother was in choir when he was in high school, and that really made me join," Lewis said. "Throughout middle school, I thought it wasn't that important, but once I got to freshman year, it started to click. I started to see how fun it was to compete with other choirs, and around Christmastime is when I started taking it more seriously." 
At the Harrisonville competition, Chambers won fourth place overall, and Select Blend combined with Chambers won second in their division. Bajich was honored with the title of "Best Female Soloist" with her emotional ballad of 'I Know a Place.' 
"I was definitely the first person to jump up and down screaming, which was really embarrassing — that was the biggest honor I could have received," she said. "I was so excited. I even started crying a little bit. I couldn't even say my name in the microphone when they asked me because I was just so overwhelmed." 
During a separate competition at Pleasant Hill on Feb. 12, Lewis won "Best Male Soloist" with his solo from Wrecking Ball. His reaction to winning the title brought a sea of emotions. 
"When I got my medal, it was one of the best experiences of my life," he said. "I didn't expect it. It was that feeling of accomplishment. All the work you put into something finally paid off." 
Both Bajich and Lewis believe the show choir will have a huge impact at BV. With lots of experience in singing and music, Bajich clarified how being afraid can affect students from sharing their talents. 
"Never be scared — there's no reason to be scared of something you love to do," Bajich said. "We can always use more singers, more people who really care about either singing or dancing or both. It's a gift that you've been given. There's no reason not to share it with the world."