Privileges in school, lifestyle important for students to recognize, appreciate
Privileges in school, lifestyle important for students to recognize, appreciate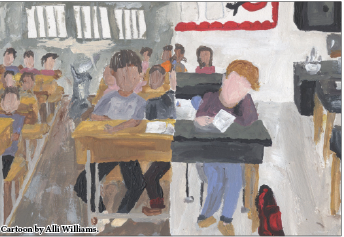 You wake up in the morning and there's food in the refrigerator to eat.
You drive your car — maybe new, maybe used — to school with your own parking spot.
You walk into school where the teachers are educated, a lot of classes have their own laptops, there's semi-functioning Wi-Fi and it's safe.
Then you go to your nice home in Johnson County and go on with your day.
In many other parts of the world, people have never gone or aren't allowed to attend school. If they do, it's completely different from Blue Valley.
They aren't provided lunch, and most don't have books or other basic school supplies. In Middle Eastern countries, girls can be gunned down for going to school. Students in Iraq, Iran and Saudi Arabia live in houses without electricity or air conditioning.
Some people's homes and towns have been bombed, and now they're refugees living in tents in makeshift villages.
As Americans and as BV students, we're given rights and opportunities that some people wouldn't even dream of. The option of going to college, playing a sport or even having a job is something that needs to be appreciated more.
Growing up in America and living in Overland Park makes it easy to forget that the ability to go to school and have basic humans rights isn't something everyone has.
When you've been given these things for your entire life, you don't realize some people have to fight for an education, food or a place to live.
We're fortunate to have the right of freedom and equality — and live in a democratic republic — but thousands of people all over the world have never experienced any of that.             
It's hard to see people within our own school, district and town are living differently, too. Some people don't have enough food to eat or can't afford to pay the mortgage. The Kansas City, Missouri school district isn't in the safest area, the schools are underfunded and the students who go there have a lower socio-economic status than students at BV.
Just a 30-minute drive can make a big difference in the way people live.
BV students can show appreciation by tweeting #tigersgivethanks, a hashtag started by coach Eric Driskell.
It's an easy way to remember all we have to be grateful for.