Grit deserves greatness
Post season celebration dinners hosted at Blue Valley
Imagine all of the sweat, tears and hard work student athletes put in during their season — enough to finally feel accomplished and proud once their season is over.
Athletes not only work hard in their sport but work rigorously off the field as well as in the classroom. After a sport comes to an end, there is an annual banquet dinner almost always held at Blue Valley, complete with decorations, catered food and awards.
However, these student athletes deserve more than just hearing their names called for an award in the school cafeteria.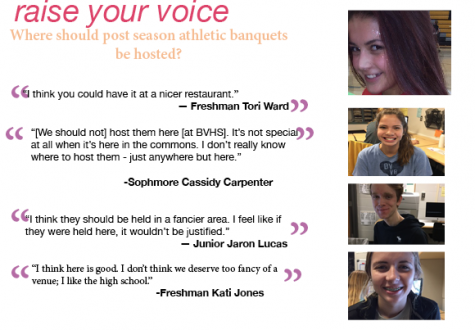 Some may enjoy the sense of homeliness and community the school has to offer, but athl
etic banquets should be hosted in a nicer venue other than the high school.
A reason this has not happened yet could be because of budget cuts and funding issues. However, there are fantastic parent booster clubs that support most sports and help raise money for the many things that come along with any sport.
If the team agrees to it, why can't banquets be held at a nicer venue funded by the athletes' parents and the booster club? Blue Valley Cheer hosts their banquet at the Ritz Charles Plaza every year. Other sports should be able to do this, too.
According to the District Administration Magazine, Stratford High School, the high school football star Andrew Luck attended, had four booster clubs which raised a total of about $100,000 a year.
Part of these funds were used to renovate tennis courts and clean up their football fields.
These funds gathered from our parent booster clubs could be saved for the end of the season banquets.
A long and rough season should be rewarded with one night where you get to dress up and spend time with your friends in a formal venue. After all, our athletes work too hard to be celebrated in a place that they eat lunch in every day.