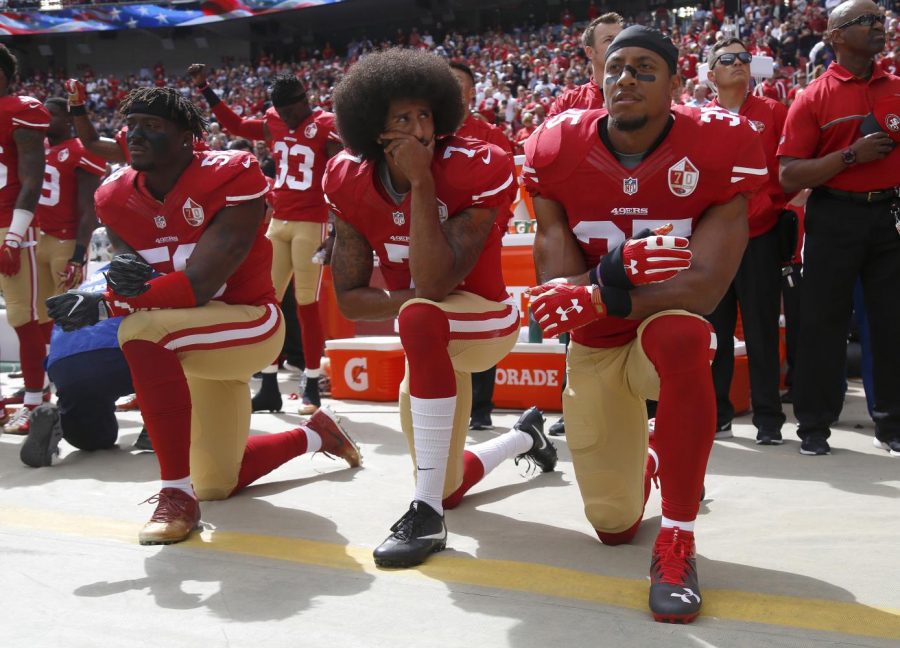 Tribune News Service
Football season is back in gear, and while many are excited, others are already frustrated. Why? Not because their favorite teams are losing, but because their favorite players are sitting down during the National Anthem.
Only a year ago, former San Francisco 49ers quarterback Colin Kaepernick gained attention nationwide for kneeling during the National Anthem, using his platform to silently protest the oppression and police brutality people of color face in the nation. While over time he has been joined by Oakland Athletics catcher Bruce Maxwell, who recently became the first MLB player to kneel, and by other NFL players such as teammate Eric Reid and Kansas City Chiefs own Marcus Peters, he also has faced a lot of backlash.
Including from President Donald Trump, who on Sept. 22, used insolent language to insist players who kneel need to lose their jobs, resulting in sidelines of players and staff kneeling or locking arms during the National Anthem in defiance that Sunday.
Many consider the form of protest as disrespectful to the soldiers that have fought for our country, and while that thought is completely understandable and justified, Kaepernick did not sit down to protest or disrespect them in any way.
The flag is representative of many things. It is a way to pay respect to all soldiers of any race. But when a soldier of color comes back to the United States, they don't get the same treatment as their fellow white servicemen. The flag is also there to represent our governmental system and its branches. But it's a government that was designed to oppress and enslave black and indigenous people. Most prominently, the flag is seen as a symbol of American citizens. But people of color, such as Kaepernick and other Black Lives Matter advocates, have said they do not feel represented by their American peers like they're supposed to be. And that is also a justified thought.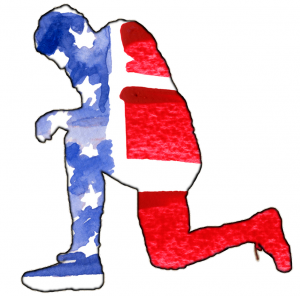 But here's another thought: if it's so disrespectful for Kaepernick to sit down, how is not disrespectful for Blue Valley's student section to replace "home of the brave" with "home of the Chiefs"?
If a person of color cannot peacefully protest, how are they supposed to fight a system that does not treat them like they matter? Or even get the message across that they feel this way? It's problematic if they march. It's problematic if they protest. And apparently, it's problematic if they kneel.
I may not ever sit down during the National Anthem, mostly because I do not have the same platform as an NFL player. But using my position as a Tiger Print writer, this article is to show me kneeling, figuratively. Because I don't have to fear being pulled over by the police for my race and not getting justice when something violent does occur. Because I'll never understand what's it's like to be a person of color in this country, but I'll always understand the privileges of being white and what it means to at least educate myself on other peoples' issues.

So, respect what the flag means to different individuals and respect the people who stand, but also respect the ones who kneel peacefully.