Holiday cheer or the worst part of the year?
Students provide their insight on the holiday season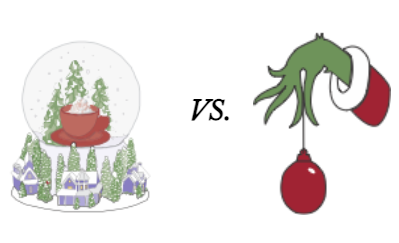 Winter Wonderland
Ella Lim

Breaking top 100 on numerous lists and placing 5th in the Billboard charts for "Top 10 Holiday Songs," the lyrics from the 1963 hit song, "It's The Most Wonderful Time of the Year" appear to hold a bit of truth. Maybe not for you, and certainly not for everyone, but for me, it's a season incomparable to others for one main reason: The nostalgia, and maybe the lack of bugs. 
Winter is defined by snow crunching under my feet as I ruin the perfect white on the ground. It's remembering when I made snowmen and snow angels, and seeing my breath while I exhale out into the frosty weather. It's hearing my parents yell, "Wear a jacket!" while I'm leaving for school, drinking hot chocolate in a cozy sweater and roasting s'mores over the fireplace. 
For others, winter is characterized by feeling warm under a blanket and never wanting to get out. It's when you're awoken to a serene landscape of snow that covers everything in sight. And it's when winter break becomes an interlude, a lull, after it seems more like a necessity than a rest. Moreover, despite the cliché, the cold brings people together. People yearn for warmth and love, and seem to be much more obsessed over the idea of giving, apparent by the immense increase of donations to toy and sock drives.
According to QGiv.com, more than one-third of all charitable giving occurs in the last three months of the year, and 12% of it comes from just the final three days. Though whenever I search anything winter-related online, I'm met with titles such as "24 Reasons Why We're Obsessed with Winter — and Why You Should be too!" by Insider and "13 Reasons Why Winter is Wonderful" by EF Education First. Even Google agrees with me, and they're always right.
So prepare to celebrate holidays, sleep in your warm, cozy bed, and savor the season to the fullest. You could go ice skating (unless you're like me and have a quite worrying lack of ability to do the sport), skiing, snowboarding and sledding. But if you're not all that into winter sports, then sit down, watch a cheesy rom-com holiday movie and drink hot chocolate. Why not? It's winter.
The Grinch Speaks Out
Regan Byrnes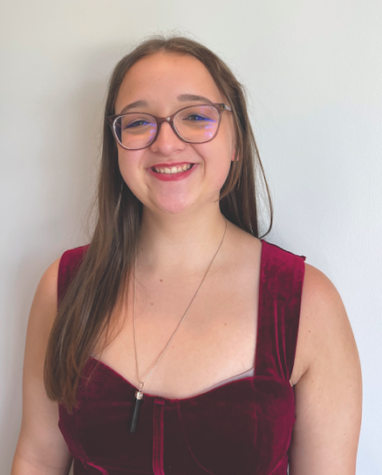 The most wonderful time of the year is upon us — or at least some people think so. Though the festive season is greatly admired and celebrated to an outrageous degree, it's no secret some people find this magical time of the year to be anxiety-inducing.
Besides what the majority believes, I don't want to be a 'Grinch,' but there are too many stressful variables.Especially when forceful happiness is inflicted — because how dare you express unhappiness in this winter wonderland and how could you be so unhappy in such a jolly time?
Though something that people fail to recognize is that kids with divorced parents have a very hectic holiday season. According to World Population Review, about 50% of married couples end up getting a divorce, and this negatively influences the child: When are you supposed to be at Dad's house? Wait, what time was the family dinner at Mom's again? No one is ever happy in that scenario because people are never satisfied.
Moreover, people never think others might struggle financially. Companies believe they help by creating huge sales events such as 'Black Friday' but it leaves families feeling horrible because they still couldn't afford the discounted price.
I could get into the multivarious reasons why I don't like the seasonal festivities. For instance, people who have their birthday around this time usually get combined presents, and companies decide it's time to break out 'It's a Holly Jolly Christmas!' in October. In October for gosh sake!
As well, it doesn't matter the song, every holiday tune is horrible and makes me want to bash my head against a wall. Don't forget, we're giving children their first heartbreak at 7 or 8 by telling them Santa isn't real. So, we might as well tell them that the holiday devil, Krampus, is real as well and will drag you underground if you misbehave.
I know I seem harsh, but I'm extremely envious of the people who can view the holiday season as an exciting time of year. It's done through hidden jealousy after dozens of people telling me "You're no fun" and "You're such a Grinch." I promise I want to enjoy the season, but don't ridicule my feelings because you don't agree with me.