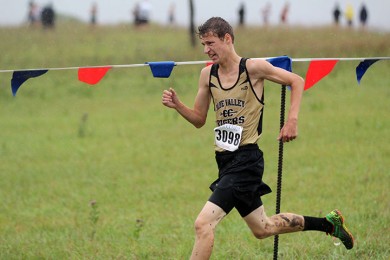 While a cross country runner jogs along during an after-school run and suddenly encounters a little girl's lost jacket, one thing is going through his or her mind: put it on and claim it as a run find.
Cross Country runners are permitted to take items of interest they find while on their runs around town. Lost toys, shoes and tools are fair game for team members. The items can be claimed and taken back to school, then shown to coaches.
Coach Diana Huber started the tradition five years ago to be a fun and environmentally friendly activity.
"The tradition was started mainly as a way to clean up litter but also to have fun in the process," she said.
In the beginning, team members took advantage of relatively lax rules, forcing Huber to initiate some policy changes.
"I keep having to change the rules," she said. "One year, we had a cat skeleton brought it in, so I had to change the rules to exclude anything that used to be living."
Huber said she has had some very interesting items brought in over the past five years.
"I had someone bring in a lawnmower and a bird cage," she said. "We also always get little kids clothing that the runners want to wear."
The current rules allow for a variety of finds but are very straightforward. Nothing can be taken out of someone's yard or from the Blue Valley property. Nothing that is or ever was alive can be taken, and items are supposed to be roughly the size of a brown bag. Team members who bring in anything illegal will most likely get a one way ticket to see Campus Police Officer Dennis Randall.
Several team members have come into trouble due to a misjudged attempt on claiming a run find.
A typical after school run turned into quite a debacle for one runner, whose youthful curiosity got the better of him. While running, he noticed a pair of jumper cables on top of someone's car. While the person using them had gone inside, the runner decided to claim the cables as a run find, and took off with them.
However, upon returning to BV, he quickly found Huber was anything but amused, and had to go return them immediately.
Cross country runners who have found some of the more interesting items have not shown any problems with displaying them publicly.
Junior Blake Berger found a pink jacket for a little girl and then proceeded to wear it for the rest of the run.
"I found it at Stanley Elementary in the parking lot," he said. "I put it on and ran with it, and people said 'Nice jacket,' because it was really small and pink. It was a bad idea, though, because it was really hot out that day."
Past Run Finds:
Plastic cow
Lawnmower
Jumper cables
Bird cage
Cat skeleton
Disney lunchbox
Little girl's red jacket
Spring Hill track
Pink sippy cup
Lighter
Cross country runners compete at Prairie View Invitational on Sept. 26 and Rim Rock Invitational on Sept. 28.
Photos by Raine Andrews.