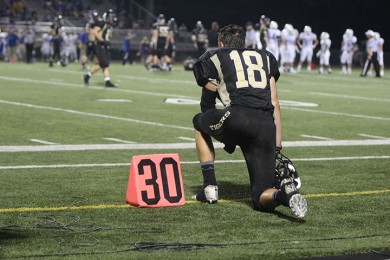 Blue Valley Tigers (7-3) vs. Mill Valley Jaguars (10-0)
Overland Park, Kan.
Friday, Nov. 15, 2013 at 7 p.m.
Last Week:
Blue Valley 42-14 Shawnee Heights — BV treated and upstart Heights team like an uprising waiting to put down, and took care of business in a romp, 42-14. The Tigers stormed out to a 28-0 halftime lead, sending the fans who made the road trip home with a sweet taste of victory.
Mill Valley 38-6 St. Thomas Aquinas — The Saints made the playoffs? How 'bout that! Their miraculous playoff entrance was shot out of the sky by the undefeated Jaguars. Mill Valley was up by three touchdowns at halftime. The Saints — and their season — never really had much of a chance.
Fun Fact — Blue Valley and Mill Valley have not met on the gridiron in over a decade. What a wonderful way to get reacquainted, with a trip to Sub-State on the line.
What this game means:
Blue Valley- It is all about win or go home. No more standings, no more tiebreakers and no more seeding rumors. Blue Valley controls its own destiny, and a win would send them to face the winner of the Bishop Miege vs. BV West game. It has been somewhat of a rollercoaster season, and the Tigers are riding high. Nothing would be more satisfactory than to return to Sub-State for the third time in four years, as well as end Mill Valley's undefeated season.
Mill Valley- Undefeated. One of the most coveted words in all of sports. In fact, Mill Valley is the only undefeated team in Kansas 6A Football this season. The Jaguars have taken heat all year for their strength of schedule, or lack thereof. Mill Valley has not played an opponent ranked in the Top 20 Kansas High, until tonight. The Jaguars are playing mainly for a sub-state bid, but also with a wish for some respect on the side from their Johnson County peers.
Blue Valley will win if: They can score points. That means avoiding playing fumble-rooski, finishing drives and digging deep into the playbook to throw an offense the Jaguar defense has not seen all year. The game could end up going to a tight fourth quarter battle, and BV has lost three close games this year. That should change tonight.
Mill Valley will win if: Their defense comes up with clutch stops. Statistically, the Mill Valley defense is one of the greatest in the history of Kansas High School football, having allowed only 72 points all season. For math lovers, that's 7.2 points, barely one touchdown, per game. To be fair, they haven't exactly played against an offense like BV, but that doesn't mean the Tigers can take the Jaguars any less seriously.
Final Prediction: Close games have not been friendly at all to the Tigers this season, with BV dropping three out of four games fans would consider to be "close." However, Mill Valley has little experience in tight games — all but two of their games resulting in blowout victories. It is games like tonight that something has to give. Mill Valley is definitely not the invincible team their record suggests, and BV could be discredited by virtue of three home losses. With a trip to Sub-State on the line, the effort and grit will be remarkable tonight. In what could be the final home game of the year for the Tigers, they will finally break their three-game home losing streak at BV District Stadium and ride off victorious under the Friday night lights.
Final Score Prediction: Blue Valley 28-21 Mill Valley