Oxygen is Overrated
BV swimmers discuss differences among events
Isabelle Allen & Megan Hegarty
KRISTINA JEWELL — SPRINT FREESTYLE
For senior Kristina Jewell, swimming has been a large part of her high school career, as she has swam since her freshman year, with the help of Coach Adam Bien.
"Coach Bien does a good job and seeing what events work for what person" Jewell said, "The 50 and 100 is a standard starting spot."
Jewell swims the 50 free, swimming freestyle from one end of the pool to the other once, and the 100 free, swimming freestyle from one end to the other ten times.
"I like the 50 and 100 because I don't have to think" Jewell said. "I don't have time to think about what I'm doing."
Jewell said that speed is acquired from lack of thought because the strokes must be swum so fast.
"You sprint as fast as you can and if you're able to think about what you're doing, you're not sprinting fast enough" Jewell said.
Although Jewell enjoys swimming these events, she said there are certain downfalls.
"Something that really frustrates me is the duration of it" Jewell said. " If you start off at the wrong pace, it can ruin the whole race and you don't end up getting a personal record."
With so many swimming event, Jewell says that some events she participates in can sometimes get overlooked.
"I think some events do get more attention than others" Jewell said. "I think that's only because most swimmers start out swimming the 50 and 100 free."
LILLY HALLOCK ­— BACKSTROKE
Although she said freestyle is her favorite stroke, sophomore Lilly Hallock is Blue Valley's backstroker in the 200 Medley Relay. She went to state last year in both the individual 100 backstroke and as part of the Medley Relay.
Hallock said that the form for backstroke is completely different from the other three strokes.
"It uses different muscles than the ones you use for freestyle, so if I'm sore and it hurts to swim free, it might not be as bad to swim backstroke," she said.
Hallock said that although she's been swimming on a team since she was 5, she didn't start
swimming backstroke often until last year.
"I like that I get to breathe the whole time," she said.
Hallock said that she doesn't get to work on backstroke as much as freestyle during practice.
"There are more free events, and everyone swims at least one free event each meet," Hallock said. "I think the freestyle events like the 50 and 100 get more attention than others because they end up being really competitive and close at big meets."
Hallock said that backstroke is very detail oriented and one thing can ruin your race.
"It's so easy to get off on my tempo, and i could so easily get the wrong count for my turn or finish and mess up," she said.
BRETTELL URCZYK — BREASTSTROKE
Sophomore Brettell Urczyk swims breaststroke for BV. She's been swimming on a rec team for 9 years, but didn't start swimming breaststroke until she was 10. Urczyk was last year's breastroker on the 200 Medley Relay, and has a consideration time — one that gets into state depending on the number of qualifiers — this year.
Urczyk said that she likes breaststroke because that's what she's best at.
"Some people think breaststroke harder than the other strokes, but it's the easiest for me, because it's the only thing I'm good at," she said.
She said that swimming a stroke other than freestyle can be hard because you don't get as much practice.
"The only breaststroke we do during practice is a little during IM sets," Urczyk said. "That makes it difficult to get enough practice and feel ready for a meet."
She said that Coach Bien doesn't help her individually for breaststroke often.
"He's only helped me with my turn a few times, but I know he would be willing to help whenever if I asked," she said.
Urczyk said there are definite perks to being a breastroker.
You get to breathe every stroke," she said. "It's a lot easier to swim when you can breathe. The only thing I don't like about breaststroke is that it tires your legs out really quickly."
EMILY HANNA — BUTTERFLY
Junior Emily Hanna has been doing butterfly since she started swimming in sixth grade. She said that although most people hate it, she likes the challenge of a harder stroke.
"Butterfly is not too hard when you have the right technique, and I like trying to find the pattern that works for me," she said.
Hanna said that the way practices are run can affect the times of people who don't swim freestyle.
"Freestyle is swam the majority of the time by swimmers, and it's hard to cater the practice to an individual's stroke," she said. "Freestyle also allows us to work on endurance and speed."
She said the little things can make or break your race.
"There must be a two hand touch on each wall or the swimmer is disqualified," she said.
Hanna said that some events — like the 500 freestyle — are hard to cheer for because of their length but the whole team will cheer for others.
"Relays always have a lot of cheering because that is when the competition between teams is at its highest," she said. "Breaststroke is always fun to cheer for because when the swimmer goes up to breathe everyone yells 'go' and a cool pattern starts."
The coaches do their best to make sure each swimmer is successful, she said.
"[Coach] Secrest always reminds me of things I should focus on during my race — like breathing pattern and good turns," Hanna said. "Coach Bien helps prepare me by pushing me to do my best during practice, so I can get faster and stronger."
KATE MEINZENBACH —INDIVIDUAL MEDLEY
Even though she's only a freshman, Kate Meinzenbach has considered for state in the 200 Individual Medley — a 50 of each stroke — this season. She had never swam the 200 IM until this year.
Meinzenbach said Coach was looking for something she could swim that wasn't freestyle, and after putting her in various other events, he settled on the IM.
"The first time I did it, I wasn't very good," she said. "But after working on my technique, I've gotten pretty good at it, so I keep swimming it.
She said that what they do in practice makes a major difference in her times at meets.
"After warmup, we do an IM set, and that really helps me a lot," she said. "Practicing exactly what I swim in meets has helped me get a lot faster as the season has gone on."
The biggest difference between IM and the other events is that involves all four strokes, Meinzenbach said.
"It's all of the strokes in one event so you have to be able to swim all of the strokes well," she said. "It's really hard because you get tired really quickly after butterfly and still have to swim another 150."
She said although she doesn't like that the race is long, there are aspects of the 200 IM she enjoys.
"I like how it gradually gets faster as the race goes on," she said. "The 50 freestyle at the end can get really competitive."
CAITLIN FITZPATRICK — DISTANCE FREESTYLE
Freshman Caitlin Fitzpatrick has been a part of the BV swim team for one year and swims distance freestyle.
"I like swimming distance freestyle because it's easier for me since I'm not really a sprinter" Fitzpatrick said. "I can go longer and it's easy."
Fitzpatrick says her speed affects the events she swims.
"In sprinting you have to get your speed up really fast," Fitzpatrick said. "Long distance, however, you can go at a constant gradual pace and then just pick it up at the end."
Along with help from her coach, Fitzpatrick is able to succeed in her event.
"Coach Bien helps with us at practices by having us swim long distance with a faster interval and it really helps," Fitzpatrick said.
Fitzpatrick has swam this event for a number of years, and likes the concept of it.
"I started doing this event when I was 10 years old," Fitzpatrick said. "I really like how it's more of a race against yourself and not as much of a race against other people."
Although she likes this stroke, Fitzpatrick believes that there can be some complications.
"I don't like how you have to keep track of how much and have a strategy going into the event," Fitzpatrick said.
About the Contributors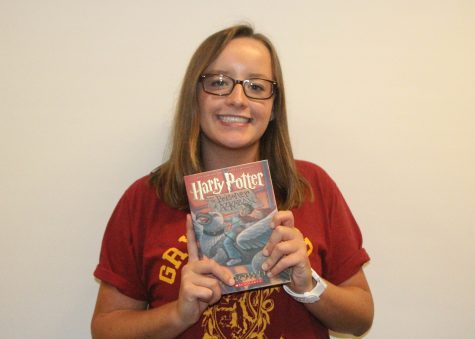 Megan Hegarty, Co-Editor
Megan Hegarty is the co-editor of "The Tiger Print." She enjoys writing sports and feature stories. Along with being co-editor, Megan is a varsity...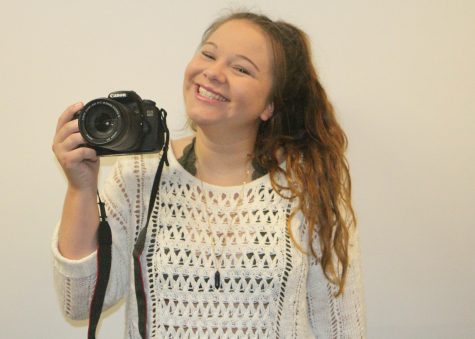 Isabelle Allen, Photo Editor
Isabelle Allen is photo editor for "The Tiger Print".  Her favorite thing to photograph is sports. In her free time, Isabelle enjoys going to the...