Behind the Sports Scenes
Managers give their insight of what it's like to manage a BV team
Being involved at Blue Valley is a must, and these sports managers are right in the middle of the action.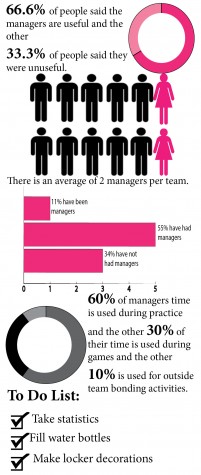 "Managing is like being on the team without the athletic work," said sophomore Taylor Nagel, manager of junior varsity volleyball team.
The majority of sports fans see managers as the people who get water bottles for the players and just sit around doing nothing, athletes parents noted, but there is definitely a different story on the playing field.
Managers are involved in the sport in more ways than one.
"My biggest responsibility would be taking [statistics]," Nagel said.
Managers help coaches keep record of what happens during games, make posters for lockers, arrange team dinners and attend every practice and game, just like players.
Managing a sport isn't only statistics and filling water bottles, though. The best thing about managing a sport is "getting to know the players" football manager, Ashley Helmick said.
Five out of nine BV student athletes said they have had managers sometime in their sports career. Most students said they had managers during their high school life rather than middle school or elementary school.
66 percent of people said that having a manager is important and they are of use to the team and the other 34 percent said they are unuseful and not needed.
"Being a manager makes me feel like I'm involved at BV, not just as a student, but as a person." Helmick said.