Tiger Football
BV Football beats Bishop Miege 35-28 at home
Last Friday BV football kicked off the season against Bishop Miege.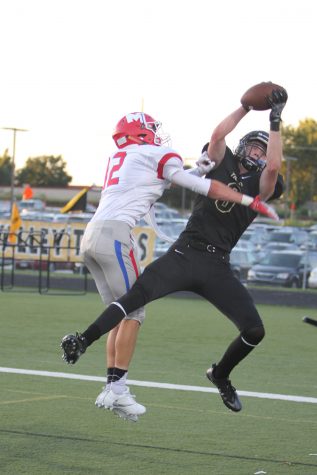 The Tigers won 35-28 over the back-to-back State Champions. According to a 810 Varsity twitter poll, 71% of the Metro thought Miege would win the game.
In the 2nd quarter, the Tigers got a safety to lead the game 8-6. The first half was incredibly low-scoring, ending with Meige leading 13-8.
The Tigers were down 28-21 with 4 minutes left in the 3rd quarter, but came storming back with a touchdown pass to Gus Gomez tie the game by the end of the 3rd.
With 9 minutes left in the game, Will Evans had an 8 yard rushing touchdown to put the Tigers up 35-28. In the final minutes of the game, the BV defense came up big with an interception by Brody Jacobsen and later a sack and forced fumble by Max Molitor to seal the game.
According to a Sports in Kansas twitter poll, BV's win was the most impressive win in week 1 of high school football.
The Tiger's slogan for this year is "Unfinished Business" after the loss in the State Championship last season.
Make sure you check out the game this Friday at the SWIDAC against BV West. This is a major rivalry game so make sure you come out and support, even if it's raining. The theme is black out. We don't want to be upstaged by West, so be there.