Winter Break: What's That?

Over the Winter Break, while everyone else is at home with family and friends or on vacation, some Blue Valley athletes involved in winter sports come back to the school to practice.
Girls basketball and the boys swim and dive team are some of those that are hard at work to make their teams better.
The girls basketball team practices in the mornings during their time off on Winter Break. Senior Ari Cecil said the varsity girls basketball team practices at 8 a.m.
"[The worst part is] having to come back to school when I just want to be at home with my family," Cecil said.
The team practices for at least two hours a day, and they focus on conditioning.
"[We do] lots of running and drills," Cecil said. "We only have one fun practice over Winter Break."
Girls basketball varsity coach Ryan Mahoney said this time over the break is his favorite time of the year and for the team.
"[Before the break] we will have only played three or four games, so it's a good assessment of where we stand," Mahoney said. "We have a giant block of time to work on everything we didn't do well in the first games of the year. Now we can go clean it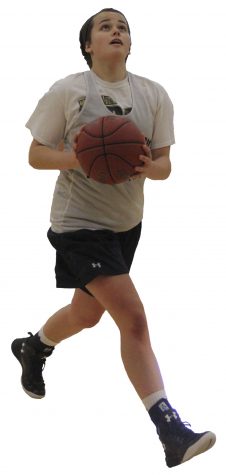 up and make it awesome."
Mahoney said the players are more attentive during practices over the break than during the school year.
"We can put our entire focus on basketball for a little while," he said. "It lets us clear our minds of other things like school, tests and finals."
Another team that practices over the break is boys swim and dive. They also practice in the mornings.
The members of the swim and dive team refer to this week as "hell week" because it is the hardest of the season.
"It's a time where the team really pushes themselves," swimmer senior Cooper May said. "Each person tries their best on each set, pushing themselves to the max to try to improve their overall times for State."
Their practices include more vigorous training than what the team endures between meets.
"[The sets are] longer [with] a lot more intensity in them, and just in general more difficult," May said.
Overall, May said that the practices aren't as bad for those who are committed to getting better.
"For the people with the right mentality, it's only an advantage for you to use for State," May said. "But, people who don't put that much effort into it are going to think it's awful because they don't want to be there in the first place."