'It's not about the wins — it's about growing, getting better and gaining confidence'
Coach wins award at Kauffman Stadium
Kauffman Stadium is a special place to thousands of baseball lovers throughout Kansas City, but on Sept. 11, it became the setting of an award ceremony that celebrates outstanding coaches in the area.
Peggy Rose, who has been coaching volleyball at Blue Valley for 37 years, was awarded the "Blue Cross Blue Shield Coaches in Character" award. The award is sponsored by Dayton Moore, the general manager of the Royals. Moore also runs a program called See You In the Major Leagues (CYITML).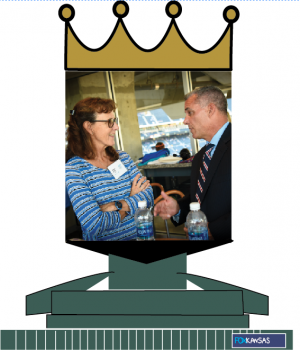 "I got nominated by Caitlin Truhe, the trainer, and coach Alisa Morse Johnson, the Freshman B volleyball coach," Rose said. "They wrote about some of the things I bring to the building and what I help out with."
Truhe said she thought of nominating Rose because of the dedication she has to all her past and present students.
"I think of all the things that Peggy Rose does for not only the students here but also her past students," Truhe said.
In order to be nominated for the award, there are many characteristics that a coach must exhibit.
"[The award] talks about character," Rose said. "It is for people who try to do the right thing and who say they are going to do something and get it done. It's for people who care about kids. It's not about the wins, but it's about growing, getting better and gaining confidence in themselves."
Rose said the experience was exciting for her because she made her mother and brothe
r, who are also coaches, extremely proud.
"I was like 'Oh my!' I knew I had been nominated but didn't know that I had a chance to win," Rose said. "[When] Caitlin found out, she was very excited. It was very humbling because there's so many great coaches in this building and in the area who should be there as well."
Rose said she had a great time at the game alongside some of her coaching friends and overall the experience was extremely enjoyable.
"She brings a lot to peoples' lives through athletics — a lot more than helping them be better athletes, but [also] human beings," Truhe said.