Winterguard
BV's winterguard makes its debut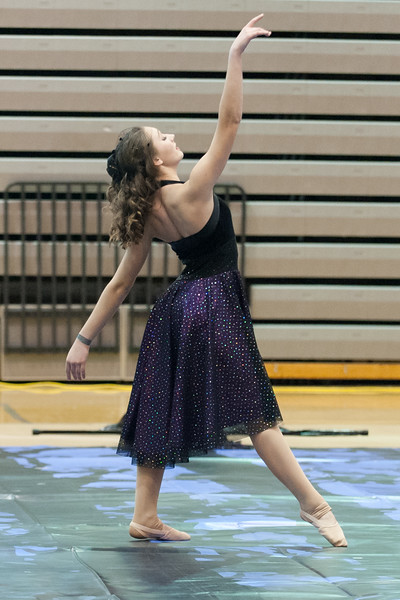 Blue Valley recently received a new addition to its performing arts program — winterguard, an indoor version of color guard, combines flag-twirling, rifle-spinning and dancing into one show.
"It's interesting transitioning from fall to winter and exploring an area of color guard I didn't know much about," said junior Celie Strain, a soloist in BV's first winterguard show. "I had only experienced fall guard, and so I think the winter experience is really cool."
Sophomore Nick Mohammadi, one of three boys in the winterguard show, said winterguard has been an overall enjoyable experience.
"Getting my makeup done [and] my hair curled [is] definitely a different experience," Mohammadi said. "I've gotten pretty comfortable now and I'm enjoying my time."
This year's show is called "Forever in Our Hearts" and focuses on the loss of a loved one.
"We purposely left it kind of generic, so it's up to the audience's interpretation, but basically someone died," Strain said. "I have a solo at the beginning where I introduce the theme and mood of the show."
Mohammadi said he enjoys the show's theme and feels confident about how it will progress.
"It's really emotional, and we're supposed to [look] sad," Mohammadi said. "But [it's hard to] act sad when I'm having such a great time."
Mohammadi said there were plenty of parts to audition for in winterguard.
"I tried out for rifle — [that's] not my thing," Mohammadi said. "I just like spinning the flag around — it's pretty fun to do, and I get to have a bigger persona on the floor."
Strain said their first winterguard competition at Blue Valley West went extremely well. The BV winterguard placed third in their division and fourth overall.
"None of us had ever been to a winterguard competition," Strain said. "Our first time performing for judges as a team went really well."
Mohammadi agreed the first performance was successful.
"Honestly, the hardest moment of the competition was getting our huge tarp out the door," Mohammadi said.
From winterguard's beginning, both Mohammadi and Strain said a community was formed.
"A lot of people are so new," Strain said. "It's easy to make connections with people who are all trying to learn the same thing from scratch."
Mohammadi said there are easy ways to support the winterguard.
"Come to our shows," Mohammadi said. "We're doing a performance sometime in March in front of the whole school. We always look nice, so just stop by, give us a hug — we always have our jackets on."
If winterguard sounds appealing to students, Strain said there are clinic days in the fall to learn choreography and prepare to audition.
"I've met a lot of people who have played big roles in my life — some great friends, some great people," Mohammadi said. "Without winterguard I wouldn't have met them."