Wrassle Tassle
Hang on for a minute...we're trying to find some more stories you might like.
Wrestling is an ancient sport, which started in 708 B.C. during the Greek Olympiad. Wrestlers would strip down to their birthday suits and go head-to-head in an intense match until one of the competitors would die or could no longer compete. Starting in 1904, when wrestling became a professional sport, wrestlers have had to follow stricter safety guidelines, which includes wearing equipment such as clothing called singlets and headgear to cover the wrestler's ear. Athletes train to reach their ideal weight class. With these safety rules applied, wrestling has evolved into a much more popular and safe sport for teenagers. Wrestling has gotten a bad reputation for being a dangerous sport but doesn't even land close in injury statistics to other sports, like soccer, lacrosse and cheerleading. Last year the wrestling team went to State, and this year the team is hoping for a win. "My expectations for the end of the season are hopefully for our team to place at the State tournament and then maybe an individual place for myself, and additionally academic first team All-State as a team," junior Evan Taylor said. "State is interesting because it's multiple days of consecutive tournaments, so every day is about eight hours long over the course of three days so that ends up being about 24 hours of wrestling." The meets can be very demanding for the wrestlers. "Meets can be tough; they tend to be hours long, you usually will have anywhere from three to five matches in a day," Taylor said. "They have to be spread out by at least an hour. Sometimes, even though you aren't wrestling in a round, you still feel obliged to go and support your teammates and cheer them on from the side lines. "The team is coached by Kale Mann, a science teacher here at Blue Valley. "I really like wrestling for Coach Mann — he really knows his stuff, he's a great coach, he understands that most of us haven't been wrestling for a very long time and he takes his time during instructions," Taylor said. "If someone doesn't get something, he becomes a little bit more of a hands-on coach and really takes you through step by step until you get it. "Taylor said the wrestlers are pushed hard during the season. "Practices are super intense, super fast paced, not a whole lot of stopping and walking around — we're almost always moving," Taylor said. "We wrestle each other to the best of our ability; that's really the best way to get better at wrestling. "The team is very tight-knit and work well together, Taylor said. "I really enjoy this group of kids; it's a really fun group to work with," Taylor said. "Coaches are great, but the reason I came back was just because of the people around."

About the Writers
Jaron Cole, Staff Writer
Jaron Cole is a sophomore staff writer for "The Tiger Print." He's involved in wrestling during the winter and baseball all year round. He enjoys...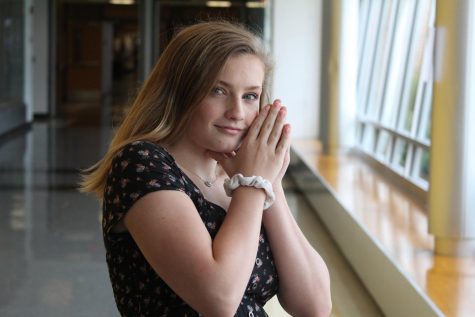 Olivia Sherlock, Staff Writer
Olivia Sherlock is a sophomore staff member for "The Tiger Print." she swims for the girls swim and dive team and is a professional water-boi. She...