One Small Jump for the Hurdler, One Giant Leap for the Team
Sophomore Nick Hettinger takes on track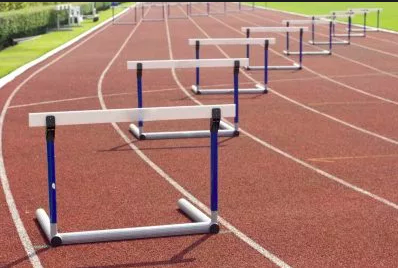 The crowd cheering, the wind blowing past, jumping hurdles, and throwing javelin. Those are all things that sophomore Nick Hettinger experiences through his favorite sport, track and field.  
Track is an outdoor sport that has many of different events you can do including, Javelin, Sprints Hurdles and more. Hettinger's events are the 100m hurdles, 300m hurdles, and javelin, an event where you throw the javelin, a spear, as far as possible.
"I'm so excited for track this season," Hettinger said. "Especially because I'm hoping to be on the Shuttle Hurdle Relay team this year."
The Shuttle Hurdle Relay team is a relay race with four people on each team. The first person runs down a stretch while jumping hurdles, then the next runner goes and so on until all four runners have gone.
Although to be able to run, jump and do all of these activities, they have to get in shape. That's where conditioning comes in, and according to Hettinger, it's not always as fun as it looks, there's a lot of hard work and challenges that come along with it.
"[Conditioning is] like riding a bike, but the next thing you know the bikes on fire, then you're on fire and everything's not ok," Hettinger said.
On the bright side, there are many positive things about track too. For Hettinger, his coach is one of his favorite things about track.
"P Rose is my favorite part about being on track," Hettinger said. "She has a fanny pack and is always ready for anything."
Hettinger's been in track since seventh grade and has enjoyed it a lot in both middle school and high school. He says it helps keep him in shape, but highschool track is very different from middle school track.
"In high school, track is harder and a lot more competitive than it was in middle school. Middle school was more of an introduction to track," Hettinger said.
Although he gets nervous during track meets, he tries to calm himself as much as possible to keep his concentration. Hettinger says track meets are very nerve racking but they're also a very fun overall experience.
"I love track," Hettinger said. "It's so much fun to be apart of, especially because it can be like a family."